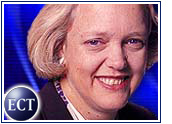 Not content to rest on its laurels as one of the true e-commerce success stories, auction giant eBay (Nasdaq: EBAY) plans to launch a storefronts program in coming months, chief executive officer Meg Whitman told investors Friday.
Whitman also told shareholders at eBay's annual meeting in San Jose, California that eBay plans to merge Half.com, the fixed-price retailer it took over last year, with its main site. That project is already under way, Whitman said.
The anticipated storefronts campaign, which will give individual sellers and businesses their own home pages within the eBay site, will be unveiled during the coming quarter, Whitman said.
The storefronts will combine fixed-price retailing with eBay's auction system, and are seen as a move to take business away from Yahoo! (Nasdaq: YHOO) and Amazon.com (Nasdaq: AMZN), which target merchants not large enough to establish their own Web sites but eager to have a presence online.
Among Internet auction service companies, Auctionwatch and Andale haverecently begun tapping the storefront space.
Keeping Sales
With a storefront hosting service, eBay hopes to extend its reach to othere-commerce segments by keeping buyers and sellers from leaving its systemwhile allowing vendors to offer their goods to customers outside the auctionformat. Under the storefront plan, vendors would be able to sell their goodswithout requiring buyers to go through the auction bidding process.
Although eBay has declined to say how much money it loses from transactionsthat are completed outside of its service after buyers and sellers meet onits site, Salomon Smith Barney reportedly estimated in a recentresearch note that sales completed outside the auction giant's realm have resultedin the loss of 10 percent to 25 percent of gross merchandise sales.
In a bid to cut these losses, eBay announced earlier this month that itwas enforcing a company policy banninglinks that lead its auction users to other Web sites.
Additionally, eBay recently launched a new service to allow newspaperreaders to search their local print edition for items posted on the Internetauction site.
Half.com on Board
The goal of eBay's merger with Half.com is to combine the best aspects of each site. While eBay is often applauded for its ease-of-use, Whitman noted, customers say it is easier to sell products on Half.com, where items can be uploaded by scanning bar codes or entering UPC numbers.
A technical team is already working on combining the sites, Whitman said. No firm timetable for the merger was announced.
Whitman also reportedly told shareholders that these efforts indicate eBay's continued pursuit of its goal of US$3 billion in annual sales by 2005 — a goal that analysts have questioned because it requires eBay to grow at a 50 percent rate each year.
Major Goal
Still, eBay's strong track record, and its ability to grow amid turbulent times for e-commerce, has won the company many believers.
"They've got a lot of work ahead of them, but they've come a long way already," Morningstar.com analyst David Kathman told the E-Commerce Times. "They've proven they can take bold steps and make tough decisions."
In morning trading Tuesday, eBay stock was down $1.16 to $61.04. The stock remains at more than double its 52-week low of $26.75, recorded December 20th.
(Slightly) New Look
Meanwhile, eBay is also in the process of revamping the design of its main page. The auction site has previewed the re-design for users on its community message board.
Most have responded with approval, though some have noted that the update retains the bulk of the current home page's characteristics, including its use of multiple colors and graphics.