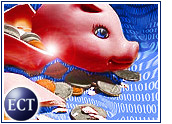 The new year has yet to bring many happy returns for high-tech stocks, whichcontinued their stumble Tuesday amid long-standing earnings fears andconcern about a cooling economy.
The Nasdaq composite stock index fell almost 178.66, or 7.23percent, to 2291.86, its lowest close since March 1999. The decline represented theseventh-largest percentage fall ever for the index.
Similarly, the E-Commerce Times stock index, which monitors 10 prominent dot-coms including Amazon and eBay, fell 7.93 percent.
Although a widespread tech stock sell-off in December helped reduce stockprices, wary investors spurned the bargain shares.
Tech Downgrades
Adding to the unease in the sector were a batch of downgrades Tuesday in theInternet infrastructure and business software development arena by investment bankRobertson Stephens.
The firm said that although it had "previously viewed[those sectors] as relatively immune," it now believes informationtechnology spending environment is "weakening."
Among the companies targeted by Robertson Stephens were data-storage companyEMC (NYSE: EMC), which fell $12.19, or 18.33 percent, to close at 54.31;e-commerce software security developer VeriSign (Nasdaq: VRSN), which slid16.69 percent to close at a 52-week low of $61.81; and Network ApplianceCorp. (Nasdaq: NTAP), which shed $12.75 to close at $51.44.
Network-enhancing software maker Inktomi (Nasdaq: INKT) was downgraded byboth Robertson Stephens and influential Merrill Lynch analyst Henry Blodget,who said that he expected slower spending by consumers in the sector.Inktomi lost $3.31, or 18.51 percent, to close at a 52-week low of $14.56.
In addition, industry giants Cisco Systems (Nasdaq: CSCO) and SunMicrosystems (Nasdaq: SUNW) both fell to some of their lowest levels in ayear. Cisco lost $4.94, or 12.92 percent to close at $33.31, while Sundropped 8.75 percent to close at $25.44.
Manufacturing Slowdown
The market also received bad news Tuesday from the NationalAssociation of Purchasing Management's monthly manufacturing index forDecember, which showed that U.S. manufacturing during the month hit itslowest level in a decade.
The new low for manufacturing confirmed fears that the U.S. economy is slowing down.
Cautious Optimism
Despite the poor start for tech stocks in 2001, analysts remain cautiously optimistic about tech stock performance andan upswing in earnings momentum in the second half of the year, led byforecasted interest rate cuts by the U.S. Federal Reserve later this month.
Although many formerly high-flying Net stocks crashed in 2000, analysts saythat technological growth will continue.
"The Internet infrastructure build-out should continue in all but the worstcircumstances," Merrill Lynch first vice president Steve Milunovichreportedly wrote Tuesday in a note to clients. "We expect companies to useWeb technologies more to gain internal efficiencies than drive new revenuestreams in 2001."