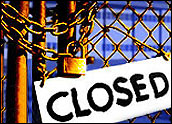 Because WhatsHotNow.com (WHN) abruptly closed its e-commerce services division, the e-tail operations of a number of TV Web sites, including Comedy Central, NBC and TV Guide, have had to shut down this week.
"[WHN] said they were negotiating an acquisition, and if that didn't happen they would have to shut down," Comedy Central senior vice president of new media Kenneth Locker told the E-Commerce Times on Wednesday.
Locker said that Comedy Central had about five days notice before WHN shut down its e-commerce services completely.
"It's unfortunate," Locker added. "They had talented people."
Part of WHN's problem, according to Locker and media sources, was that WHN dumped over US$17 million into building a new business-to-business (B2B) entertainment merchandise licensing exchange, known as WHN Exchange. According to published reports, WHN Exchange is still operating, but may close as well.
If WHN had not built the exchange, "they probably would have been profitable," Locker said.
Missed Making Millions
WHN founder Robert Fried, the former chief executive officer of Savoy Pictures, said in published reports that WHN's e-commerce services business had been on target to generate between $15 million and $20 million this year and would have broken even in March 2002.
WHN could not be reached for comment, but media reports indicate that most of the company's employees were let go.
Media Heavy Hitters
Comedy Central, which has been a WHN client for approximately seven months, initially signed on with the company because it was impressed with WHN's roster of clients, particularly WHN's "high-level entertainment clients," which included Comedy Central's sister station MTV, Fox, NBC and TV Guide.
Comedy Central and several of WHN's other clients have posted signs on their online stores saying they are temporarily unavailable, but plan to be back soon.
"Like most of your favorite television programs at this time of year, we are temporarily 'on hiatus' in order to make updates and improvements," TV Guide's online notice reads. "We appreciate your business and we look forward to serving you with our new and improved store which will include enhanced customer service features."
Playboy.com Prepared
Although many of WHN's clients have had to shut down their e-tail operations, WHN client Playboystore.com is still up and running.
Laura Sigman, public relations manager for Playboy.com, told the E-Commerce Times that because e-commerce is "a very important part of the company's online business model," Playboy.com had a contingency plan in place.
Sigman said that Playboystore.com is now operating on Playboy.com's own infrastructure, using WHN's software.
Orders Being Filled
Comedy Central, like most of the other sites affected by the WHN shutdown, plans to fulfill all orders that have been placed.
Locker said that Comedy Central received data from WHN on Tuesday for 700 pending orders and is working with an outside fulfillment company to get the orders shipped.
Comedy Central has no plans to bring its e-tail operations in-house, Locker said. Instead, the entertainment firm hopes to find another e-commerce service provider and have its store up and running again in the next30 days, the executive said.