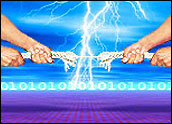 Take-Two Interactive Software on Friday slammed Electronic Arts' lower bid for the company. EA on Thursday decreased its offer by 26 cents per share after Take-Two shareholders voted more shares for its top management, ZelnickMedia, at their annual meeting. EA also extended its tender offer by a month.
The deadline for Take-Two to accept EA's bid at US$25.74 per share is now May 16. EA's original bid of $26 per share had been scheduled to expire at midnight Friday.
About 6.4 million Take-Two shares — 8.3 percent of the total — were tendered by the end of business Thursday, EA said. EA had warned that it would cut its per-share offer if Take-Two passed the stock plan. Nevertheless, EA's aggregate consideration for New York-based Take-Two remains at $2 billion.
'It Undervalues the Company'
"The minuscule number of shares tendered, as well as the strong vote in favor of the proposals presented at our annual meeting, offer indisputable evidence that our stockholders regard our efforts to enhance Take-Two's stockholder value as superior to the EA offer," said Strauss Zelnick, Take-Two's chairman.
EA's offer is basically the same proposal Take-Two's board had turned down March 13, he commented. "It undervalued the company at $26 per share, and it certainly undervalues Take-Two at $25.74 [per share]. The recommendation of our board of directors that stockholders not tender their shares to EA remains unchanged."
One of those coveted properties is "Grand Theft Auto," the fourth edition of which is set for release April 29.
"We are confident in the significant growth potential of Take-Two and in the unique value of our business given our strong position in this dynamic industry," Zelnick added.
Ineligible to Vote?
The stock plan received support from more than 73 percent of shareholders. However, most of those shareholders shouldn't have been allowed to cast votes, EA spokesperson Jeff Brown told the E-Commerce Times.
The only shareholders who were eligible to vote were those who held stock on Feb. 19, five days before EA made its offer for the company public, he commented. That would mean fewer than half of the votes cast should have counted. "We estimate more than 50 percent of the shares have traded hands since then."
ZelnickMedia is "extremely disingenuous" in saying the vote was a show of shareholder support for management because so many current shareholders were not eligible to vote, Brown asserted. "It is as if Zelnick got his old boss to give him a multimillion bonus, and his new boss has to pay it whether they like it or not."
The latest Take-Two maneuver could jeopardize the deal, he added. "Whether it's due to regulation or intransigence by Take-Two management, the value and certainty of this deal are eroding with time."
Is Take-Two shooting itself in the foot with this move? "Those are not my words, but I wouldn't argue with it," Brown concluded.
Looking Out for Shareholders
Take-Two's latest action was predictable, Janco Partners analyst Mike Hickey told the E-Commerce Times. "Take-Two management is trying to act in the best interest of shareholders. Shareholders clearly believe there's more value than 26 bucks a share."
The incentive plan is no surprise, he added. "By not voting an incentive plan to a management team that's dedicated to the long-term benefit of the company would not be sending the right message. If EA doesn't want to pay more than $26 [per share], they can walk away."
Nevertheless, the two sides may come to terms after all, Stern Agee analyst Arvind Bhatia told the E-Commerce Times. "I think ultimately this deal goes through, perhaps [at] a little higher price. There are people who bought this stock in the $26 to $27 [per share] area, and [they] might be looking for a higher price and have not tendered their shares."
EA's extension demonstrates that it still wants Take-Two. "I think it's a situation where who blinks first," he said. "What could get the deal done [is] if EA were to raise the price by a dollar or two, if needed — that [would] make everybody happy."