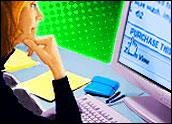 E-commerce has certainly not been immune from the recession battering the U.S. economy, but for reasons that can only be guessed at, most of the leading e-tailers have not stepped up their efforts to retain customers by providing improved service, according to a recent customer satisfaction survey.
Only two e-retailers scored above 80 on a 100-point scale in the annual Top 40 Online Retail Satisfaction Index: Amazon and Netflix, both with 84. The survey's methodology is based on the University of Michigan's American Customer Satisfaction Index, in which a score of 80 is generally considered the threshold for excellence.
The achievement of the two e-tailers that ranked above 80 is muted by the fact that one of them, Netflix, cannot be considered a traditional e-tailer, said Larry Freed, president and CEO of ForeSee Results, which conducted the survey.
A number of prominent retail Web sites — including Circuit City, Gap, Home Depot, HSN, Neiman Marcus and Overstock — fell below 69, the bare minimum industry standard for customer satisfaction.
Overall satisfaction with the industry held steady, with an average score of 74. QVC came in third at 79. Considering the angst many shoppers were feeling this holiday season, maintaining the status quo could be viewed as a positive, Freed told the E-Commerce Times.
Ten retailers improved their satisfaction ratings from last year in the four-year-old survey: Wal-Mart.com added five percentage points to reach 78, and HP's online store gained seven points to reach 76. Among the other sites that showed improvement are Staples, which added six percentage points to reach 77, and Target.com, which rose 4 percent to 75.
Happy Customers, Open Wallets
Not surprisingly, satisfied online customers are more likely to buy than those who are dissatisfied — but the survey quantified that observation. They are 73 percent more likely to make a purchase. This is true to a lesser degree in brick-and-mortar stores. The survey found that satisfied in-store shoppers were 38 percent more likely to make a purchase than their less pleased counterparts.
Nailing down the reasons Web sites fall into disfavor with consumers is not easy, but Freed pointed to a combination of factors, starting with — especially this year — prices.
There are other considerations though, such as a site's functionality and general customer service policies. "There is no magic feature I could point to to say to retailers, 'Do this, and your customers will love you,'" Freed said.
Free Shipping, Promotions?
In its next wave of data analysis, the ForeSee survey will examine specific actions some retailers took, such as offering free shipping or other promotions. "We will start analyzing this data next week," Freed said. "I am expecting that free shipping, in particular, and promotions will have proven to be very instrumental in building satisfaction. Free shipping has become an expectation on the part of many customers, especially during the holiday season."
Indeed, this year marked the first Free Shipping Day — a hastily organized event that grew virally to eventually include 250 participating retailers. People who made purchases at these online Web sites by Dec. 18 were guaranteed to receive their orders by Christmas Eve, with no charge for shipping.
Self-described avid shopper Christy Johnson, an account manager in Tempe, Ariz., told the E-Commerce Times that free shipping is something she has come to expect.
"Unless it is something I really need, I only buy when I can get free shipping," Johnson said.
Other Benefits
Johnson echoed other findings from the survey — namely, that price was not the only factor when evaluating a retail site. The usability of the site and the checkout process are also important, she said.
"If it is easy to use, it keeps me in coming back. For example, I buy a lot from Shopbop.com, because it is very easy for me to pop in, select an item and check out.
Zappos, she said, seems to have married the best of all these worlds: It has "excellent shipping options and also excellent customer support — online and on the phone. They often upgrade you to faster free shipping and are easily available to answer questions or complete returns."