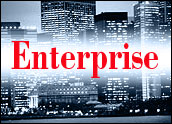 Big business likely will be spending US$4.6 billion a year on Web. 2.0 technologies by 2013, according to a new study by Forrester Research.
Spending on Web-based enterprise technologies, including social networking, RSS (really simple syndication), blogs, wikis, mashups, podcasting and widgets, will grow by 43 percent each year within the next five years, Forrester reports, pointing to Web 2.0 technologies representing a fundamentally new way to connect with customers and prospects while harnessing the collaborative power of employees.
General Motors, McDonald's, Northwestern Mutual and Wells Fargo are among some of the major corporations that already have used these tools heavily, the study notes.
Changing Priorities
Fifty-six percent of North American and European enterprises consider Web 2.0 as a priority in 2008, Forrester reports.
"We see use on two major fronts," Forrester analyst G. Oliver Young, author of the study, told the E-Commerce Times. The first front involves using tools like RSS and social networks to facilitate communication between a company and its customer base, to learn about the customer needs.
"The other place is employee collaboration and productivity. We expect both of those use cases will be quite common within the enterprise, and most companies will use a combination of both," he said.
Security shouldn't be an issue, even with networks established outside the confines of the company, Young added. "One of the most popular wiki platforms works the same as e-mail would, and there's plenty of proprietary information there, but it all lives behind the firewall."
Simple Tools
"Software firms can make money selling enterprise Web 2.0 software, but it will not be an easy road to hundred-million-dollar run rates," Young pointed out. "The market for enterprise Web 2.0 tools will be defined by commoditization, eroding prices, and incorporation into enterprise collaboration software over the next five years. It will eventually disappear into the fabric of the enterprise, despite the major effects the technology will have on how businesses market their products and optimize their workforces."
Such technologies are relatively cheap and nimble, which enhance their advantages, said Gordon Haff, principal IT adviser for Illuminata.
"The attraction of these tools is they're simple, cheap [and] don't need to be architected," he told the E-Commerce Times. "So, I think it's absolutely fair to say that GM or whoever is not going to plop down Oracle-style licensing fees for the wiki software. Is that to say [companies] like Novell won't be able to make money by next-generation collaboration suites that incorporate wikis and so forth? No, but one of the attractions for this software is it's simpler and cheap, and that is going to tend to keep prices down."
An Enormous Effect
There are challenges moving forward, as companies adopt this technology, Young commented. One is the companies' own IT personnel being apprehensive about technology that they may feel is less secure.
"If we think about who implements technology with these enterprises, it's almost always IT, and IT guys can be very persnickety about what they consider safe and secure," he noted. "Making sure IT has brought in its own tools becomes a big part of it."
In addition, technology providers will be under price pressure, thanks to Web 2.0 tools that often are free to consumers."The ability to get free, open source technology is going to have a big downward price pressure," Young added.
Another challenge is that enterprises will want to maintain control. "They want complete control and be able integrate some of it, while being able to decide which technology they want or don't want to use," he said.
By 2013, investment in customer-facing Web 2.0 technology will dwarf spending on internal collaboration software by nearly $1 billion.
"Social computing and Web 2.0 marketing are still in their infancy; and in general, the market is still in an experimentation phase," Young said. "In the long run, the effect of Web 2.0 will be enormous."
The success of these efforts likely will be measured by a company's commitment to them, said Rob Enderle, principal analyst with the Enderle Group.
"Going forward, this can allow working groups to collaborate," he told the E-Commerce Times. "The difficulty with those efforts is, while the interest is there, the drive to make them successful often isn't."