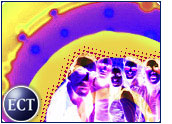 The projected boom in the online population over the next few years presents e-tailers with an "enormous opportunity" to win the loyalty of a whole new crop of consumers, according to data released Thursday by IDC.
As a result, the Framingham, Massachusetts-based research firm advised Internet sellers to "heed the homilies of the importance of first impressions," which are pivotal moments that can make or break the transformation of an uninitiated browser into a regular buyer.
The study noted, however, that any effort to build a strong customer base must first be predicated on an understanding of the expected shift in Web user demographics.
For instance, IDC projected that the largest number of new online users between 2000 and 2005 will fall in the 35-to-54 age range, accounting for 28.5 percent of all first-time users.
Customers in this group are the "obvious sweet spot" of the market, because they are entering their peak earning and spending years, said the report. While 48 percent of users between 35 and 54 years of age were online in 2000, that figure will spike to 76 percent of the sector's total population by 2005, according to IDC.
Claiming Seniority
Another crowd that will prove to be "attractive" to e-tailers is the over-55 age group, IDC said. Many are also in their peak earning years, while others have substantial time to engage in Web surfing, said IDC.
Propelled by the wave of aging baby boomers, IDC predicted that the percentage of online users who fall into this category will more than double, from 26 percent in 2000 to 56 percent in 2005. Moreover, seniors will compose 26 percent of all new users in the coming years.
Despite this growth, however, IDC said the over-55s have and will have the lowest percentage of online users.
Starting Young
At the opposite end of the age spectrum are children under the age of 12, who represent "an opportunity to obtain future customers with the rest of their lives ahead of them," said the study.
While these young users may not currently possess online spending authority, IDC noted that they do exert a "significant influence" on parental spending.
Last year, 42 percent of children under the age of 12 were online, IDC said. By the end of 2005, that number will grow to nearly 78 percent, according to the report. More importantly, they will account for almost one quarter of all new users in the next four years.
Saturation Level
By comparison, IDC found that there is less opportunity to make a first impression on users currently between the ages of 12 and 17, because 81 percent of this category was online in 2000.
Internet users who fall into the 18-to-34 age range are the second most saturated group, with 67 percent utilizing the Internet last year. The figure is expected to reach 91 percent in 2005, according to IDC.
As a whole, the report predicts that the U.S. online population will nearly double between 2000 and 2005, adding 85 million new users. However, IDC cautioned e-tailers not to look for such explosive growth to continue beyond 2005, because the U.S. will be approaching its saturation point, with more than three-quarters of its population online by that time.