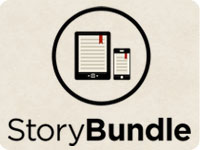 New online book publisher StoryBundle is taking a leap of faith with its customer base: Readers get to decide how much to pay.
StoryBundle, which launched this week, offers readers five e-books written by independent authors in one bundle. The bundles are grouped according to genre. First out of the gate is a group of sci-fi novels. However, anything goes — next month the bundle could be romance or horror.
"There are so many different genres out there, and this model is so flexible that putting a bundle together is not something we are worried about," founder Jason Chen told the E-Commerce Times.
5 Books for How Much?
There is a minimum price that readers have to pay per book — US$1. The model lets readers apply 10 percent of their purchase price to charity, if they choose. Since the launch, there have been more than 1,000 downloads at an average price of about $7, Chen said.
Once a reader decides on price, there are three available payment methods: PayPal, Google Checkout or Amazon Payments. The reader enters the payment amount and then downloads the books, much as one would download a book purchase from Amazon, for example.
The model is device agnostic — meaning the reader can download the book onto a tablet, an e-book reader or a smartphone. All of the titles are published in both .mobi and .epub formats.
A Fan of Indie Game Bundles
Chen got the idea for StoryBundle from the Humble Bundles that have become a popular way to sell indie games and music.
"I always felt like I got a good deal using those, and I would discover new games that I might not have ordinarily tried out," he said.
An avid reader, Chen thought the same model could be applied to indie books.
StoryBundle is also a curator, of sorts. The number of self-published e-books has exploded in recent years, and wading through the titles can be a chore.
"Amazon, for example, is filed with indie books," Chen said, "but they don't necessarily appeal to everyone. You have to dig a bit and go through the various genres."
Chen has read the StoryBundle books himself and talked to the authors. Each bundle will be available for approximately 21 days; after that period ends, the books will sell at their full price. After a rest period of a week or two, StoryBundle will launch another bundle of books.
Original and Strange
It is a very original and very unusual publishing model, Albert Greco, a publishing-industry expert at Fordham University's business school, told the E-Commerce Times.
Without a fixed payment model — beyond the $1 per book floor — StoryBundle may find it difficult to cover its overhead, he suggested.
"StoryBundle has costs. At the very least, it must pay website fees," Greco pointed out. "Certainly it will have to pay federal and state taxes."
The authors might be dismayed by the unpredictable revenue stream, he suggested.
But then again, maybe not.
"The number of self-published books has exceeded 2 million a year for the last couple of years," Greco acknowledged. "That is a lot of books to plow through for a reader, so these writers like to differentiate their work any way they can."