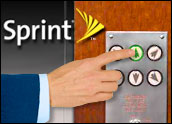 It's easy to get lost in the cacophony of marketing and media hype surrounding Palm Pres, iPhones, app stores and the mobile Web. However, the low-cost, no-hassle prepaid phone market made some noise of its own Tuesday when Sprint announced it was buying Virgin Mobile USA for US$483 million.
The move brings together two of the better-known brands in the prepaid business, although Sprint's Boost Mobile has seen more success than Virgin this year, according to recent market research. However, it also signals recognition of the recession's impact on the overall growth of the prepaid market; more customers are willing to deal with fewer bells and whistles for their phones if they can free themselves from two-year contracts and tougher credit requirements while enjoying the rise of cheaper monthly unlimited voice and data plans.
"Prepaid is growing at an unprecedented rate with consumers keenly focused on value," Sprint CEO Dan Hesse said as he acknowledged the opportunities for his company. "Virgin Mobile is an iconic brand in the marketplace that will complement our Boost Mobile brand."
In fact, Sprint will continue to use the "Virgin Mobile" name in conjunction with its Boost offerings. Virgin Mobile USA's Dan Schulman will run Sprint's entire prepaid business, reporting directly to Hesse.
The Chase for Prepaid Users
Before the recession hit, the typical prepaid user was usually a younger person who represented more of a credit risk and was therefore locked out of long-term, postpaid contracts. However, mobile virtual network operators (MVNOs) like Virgin Mobile USA, which lease network space from carriers and turn that capacity into service plans for consumers, have seen a jump in interest.
"With the economic crisis, a lot of people may have given up their postpaid wireless plan, and there was a push into the prepaid plans," Michael Morgan, an ABI Research analyst, told the E-Commerce Times. "The prepaid companies have been putting out these excellent all-you-can-eat deals for $50 to $60 a month, which is much cheaper than postpaid."
The prepaid market has always been viewed as the "red-headed stepchild" of the U.S. wireless industry, according to Morgan, "but if you look at the rest of the world, prepaid is very popular. In emerging markets, it's the dominant way the cellphone business is done."
Sprint already owned 13 percent of Virgin Mobile, so Tuesday's deal is simply a way to take advantage of the niche Virgin Mobile USA has established for itself and expand Boost Mobile's mostly urban customer base.
"They're grabbing those extra fringe elements, and who knows? Over time, those folks may develop into postpaid customers," Morgan said.
The Market Research
So which demographic is Sprint buying for its $483 million? A comScore Media Metrix survey released in June charted visits to the major prepaid wireless Web sites during March — when the national media was focusing coverage on a souring economy — and found that 48.3 percent of those doing the clicking on Virgin Mobile USA were in the 35- to 64-year-old age bracket; 32.6 percent were in the marketing-friendly 18-to-34 category; and 15.1 percent were under the age of 18.
Sprint's Boost Mobile visitors were evenly split in the older demographics: roughly 43 percent in both 18-to-34 and 35-to-64 age groups, with 10.7 percent under 18. Some of the older demographic results could have represented parents buying phones for their children, ComScore analysts acknowledged, but they also show that interest in prepaid plans is spreading beyond the stereotypical youth groups at a time when households are looking to trim costs.
Sprint may be getting access to a bigger cut of the prepaid market, but it's also inheriting other costs, said Gartner analyst Tuong Nguyen.
"There's customer acquisition costs. You have to take care of these new subscribers, and [Sprint] may or may not want to expand their handset lineup to take care of this crowd," Nguyen told the E-Commerce Times.
It was a lot easier for Sprint to just collect an MVNO check for use of its capacity. "It was like collecting the rent at the end of the month. Now it's like running a boarding house," Nguyen said.
Virgin Mobile's Side of the Deal
Virgin Mobile USA wasn't able to capitalize on the consumer's desire to save money as well as its competitors, the comScore survey reveals.
When comScore compared March 2009 unique Web site visitors to the previous year, it found a 3 percent drop for Virgin, while Boost Mobile saw a 105 percent gain. MyCricket, Net10 and MetroPCS also had increases year-over-year.
From Virgin's perspective, "why did they decide [to sell] now?" Nguyen asked. "After they originally IPO'd, the street was beating them up pretty hard in terms of expectations. To be fair, the market overall has not been that great, but in terms of performance, they were getting beat up."