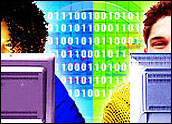 As the battle for online revenue extends into 2002's shortened holiday-shopping season, some e-commerce firms are relying on content other than product details to keep visitors coming back to their sites — and buying products.Specifically, companies may be considering whether to post uncensored reviews of the products they sell as a way to add unique content and build a sense of community.
In general, e-commerce analysts recommend steering clear of this approach — even though companies like Amazon and Epinions have had great success with customer reviews.
"You're going to get all kinds of crazy people saying all kinds of crazy stuff," GartnerG2 research director Geri Spieler told the E-Commerce Times. "They're notreliable comments. You may get some idiot who doesn't know how to use acamera, and you don't know if that person has a legitimate complaint or ifhe's just a malcontent."
Problems with Opinions
According to analysts, e-tailers risk losing product sales by having negative comments posted in an item listing. An online retailer's suppliers may even blacklist it if too many bad reviews of those suppliers' products appear on a site.
On the other hand, customer reviews can help draw attention to an issue that many people have with a particular product, Forrester Research analyst Chris Kelly told the E-Commerce Times, though he noted that most people only post their opinions about products they either love or hate.
"I can't look at the aggregate data and see that 75 people loved it and 25 people didn't like it, and say that's the be-all end-all on that product," Kelly said. "You're getting very polarized results there."
The helpfulness of customer reviews varies tremendously by product category,too. Groups of products that are more research-intensive, such as high-techitems, tend to be aided more by reviews from consumers and expertsbecause shoppers for such items "are looking for opinions from pretty much anybody to see what's going on," Kelly said.
A Tale of Two Sites
Even in light of those problems, some e-commerce firms make consumer reviews a big part of their offerings.
One of those firms is Epinions, admittedly not an e-tailer in the strictest sense of the word. Started in 1999, the company is a comparison-shoppingsite that provides reader-generated reviews of all kinds of products and services. After a visitor finds an item he or she likes, Epinions generates price and availability options from a list of merchants that are also rated by Epinions readers.
Epinions' reviewers generate the vast majority of objective content on thesite. A reviewer's credibility is increased when other Epinions usersplace him or her in their Web of Trust, a feature that lets readers"subscribe" to reviewers who are like them.
"You can go out and find reviewers who have the same biases as you, whetherit is a demographic bias or a much more subjective bias like a real technophobe versus a technophile," Epinions CEO and co-founder Nirav Tolia told the E-Commerce Times.
GartnerG2's Spieler said independent sites like Epinions do not take the kindof risks that e-tailers do when they publish customer reviews of products. "But Iwould not want all kinds of people commenting on products at my store," sheadded.
Amazon-Like Opinions
One company that has done very well with consumer reviews isInternet heavyweight Amazon.com — especially in its traditional book and CD categories, "since those are products that do well based on referrals," Gene Alvarez, vice president of electronic business strategies at Meta Group, told the E-Commerce Times. "Also, there are not as many comparison sources in those areas."
Amazon's customer-generated reviews are displayed alongside editorialwrite-ups, a "Customers who bought this product also bought…" area, andother content within each product listing.
Amazon does not have a "Web of Trust"-like system. Its reviewers,though, can gain "top reviewer" status from fellow site users who indicatewhether or not a write-up was helpful to them. The more "helpful" votes areviewer garners, the higher his or her ranking becomes. "Not helpful"ratings count against a reviewer's ranking.
The online retailer does run a risk of hurting its revenue by publishing negative reviews of its products. But as Spieler pointed out, the threat to Amazon is not as great as to other Web sites, because Amazon alsoserves as an e-commerce platform for other retailers. "If somebody doesn't likea Toys 'R' Us product [listed on Amazon], then Toys 'R' Us takes the hit," shesaid.
Amazon officials were not available for comment.
What To Do?
If e-tailers are motivated by Amazon's success with consumer reviews andwant to follow a similar path, they can avoid some of the headaches associated with publishing uncensored customer reviews by including write-ups from professional reviewers instead.
"Come up with some sort of relationship with an expert review house, or havelinks to outside reviews," Forrester's Kelly said. "Those reviews are goingto hold a lot more water than consumer reviews."
Alternatively, a survey model can allow customers to indicate whether they like a product or rate items on a scale of one to five — without giving them free reign to writewhatever they want. "This gives the consumer the same warm and fuzzy feeling[about] the [site], without having to worry about what's being said," Meta Group'sAlvarez said. "These results can be analyzed not only [by] the consumer, but bythe retailer as well."
The overall success of any site, though, depends on a combination ofInternet technologies and what Alvarez calls the "old-time brick-and-mortarpractices" of back-end fulfillment, inventory management and merchandising.