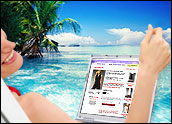 A new fashion shopping site from Florida boutique La Ti Da is banking on personalized service to set it apart.
Visitors to ShopLaTiDa.com, based in Boca Raton, are invited to complete an online profile including profession, style sense, body measurements, preferred designers and areas of shopping where they might need assistance.
Based on that information, La Ti Da style experts will then "begin a conversation" with the customer, including making recommendations and alerting them to merchandise arrivals that suit their fashion needs, founder Kim Porterfield told the E-Commerce Times.
Snowbird Clientele
ShopLaTiDa.com's personalized online shopping service stemmed out of a need to continue the one-on-one attention the store offers its Florida shoppers, many of whom are "snowbirds," and only in the area for part of the year, Porterfield said.
"A lot of my good customers are from New York, Chicago and Boston, and after they'd go home, they'd be calling me for help finding something to wear for an upcoming event, for example," she explained. "What was happening was that we were actually doing phone sales already."
Porterfield always knew she wanted to take the store online, and "to be able to take that service to the next level and create an avenue even for those I haven't met, so we can deliver the same personalized service to them."
Future of Retail
As part of her lifelong interest in fashion, Porterfield's background includes positions as assistant fashion director at Nordstrom and manager of Nicole Miller's wholesale division in the mid-Atlantic territory.
She opened the La Ti Da boutique in late 2006, and the store's online counterpart launched just a year later.
"Part of me always thought online would be the future of retail," Porterfield explains. "While at Nicole Miller, I saw so many stores go in and out of business; I think this is a way to stay in business even through the local slow season."
Painstaking Process
Making the online dream a reality took considerable work, Porterfield acknowledges.
"I interviewed probably nine or 10 different Web design companies to see who could mesh with my vision for the site," she explained. Even then, "we still had to go back and forth several times on a few things."
Photographing and writing descriptions of the store's merchandise was a time-consuming project, as is the task of updating the site each night, Porterfield said.
Two of the young site's most memorable achievements so far were its launch and the arrival of its first order the very next day, she says. Since then, customers have found the site from as far afield as California and Texas.
Looking forward, Porterfield would like to evolve the Web site into a separate business, she said.
Competitive Landscape
While there are other sites that offer personalized shopping consultations, few offer ShopLaTiDa.com's 24-hour response, Porterfield asserts.
Personal shopping profiles can be very useful as a way to learn about customers, Patti Freeman Evans, a senior retail analyst with JupiterResearch, told the E-Commerce Times.
Only about 20 percent of consumers given the opportunity will regularly fill out such profiles, Freeman Evans noted, but "you can gain great insight into what consumers are talking about even if it is only 20 percent," she said. "You just have to understand the skew in terms of who these customers are."
Among the insights that can be gained from the profiles are potential trends that could guide merchandise selection, Freeman Evans added.
Online Apparel Market
U.S. online apparel sales will amount to US$19.7 billion in 2008, JupiterResearch predicts. "That's 7.2 percent of the overall apparel market in the United States," Freeman Evans noted.
Jupiter expects those sales to grow at a compounded annual rate of 11.3 percent over the next five years to $28.9 billion, or 9 percent of total U.S. apparel sales, Freeman Evans said.
"Online is still gaining market share, and that's significant in a big marketplace like apparel," which is the largest category online in retail sales, excluding things like travel and automotive, she added.
Stiff Competition
La Ti Da is now competing with everybody on the Web, at least hypothetically, Freeman Evans noted.
"What's important is to bring the character of the shop into the Web page, and it seems like they've tried to do that," she explained. "The personal elements may allow the store to maintain a loyal customer base and differentiate itself in terms of the products it carries."
To attract customers who don't already know the shop, success will hinge on "really communicating well why the site is different, what's its product point of view, and why they should buy there rather than Macy's or whatever," Freeman Evans said.
Most people buying online buy at sites they already know, Freeman Evans added. So, for a newcomer like ShopLaTiDa.com, it will be important to be "aggressive in getting people to try the site," such as by optimizing search engine listings.
Ultimately, "the playing field is more equal on the Web," she concluded. "That's good, but it's also a challenge."