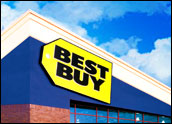 Dell added another big gun to its fast-growing retail arsenal Thursday, saying it would begin selling some of its personal computers at hundreds of Best Buy stores across the U.S.
The partnership may come too late to give Dell an immediate boost during the holiday season, however, with the Round Rock, Texas, company saying that its machines would begin appearing in Best Buy outlets "in the next few weeks."
Dell will offer its XPS and Inspiron notebook and desktop models at 900 Best Buy outlets across the country, it said. The financial terms of the partnership were not disclosed.
Three in a Row
The deal is the third Dell has announced with U.S. retailers this year after an agreement with Wal-Mart and more recently with the office supplies chain Staples.
Having the ability to see Dell machines — it recently began offering its notebooks in an array of colors — and test their capabilities "can be an important part of how people shop," said Michael Tatelman, vice president of sales and marketing for Dell's consumer business.
"Dell is clearly one of the most popular and successful PC companies, and their addition to our retail and online selection gives Best Buy customers unprecedented choice," said Best Buy Vice President Dave Morrish.
With Best Buy in the fold, Dell now sells its machines through almost 10,000 outlets worldwide. This represents a dramatic shift in focus for a company that built its reputation and its onetime world-leading market share on the strength of a direct sales model that relied on selling only through the Internet and telephone to keep costs — and consumer prices — low.
Following the Leader
The effort is a global one, with Dell also partnering with retailers such as Gome in China, Europe's Carrefour, Singapore chain Court, Bic Camera in Japan and the Carphone Warehouse in the UK. The Wal-Mart deal includes outlets in Canada, Brazil and Mexico as well as the U.S.
Dell's Best Buy offerings will begin with a relatively small selection of black and white notebooks and its XPS One desktop, the PC maker said. Additional models and colors will be made available in coming months, the companies said.
Dell's machines will have plenty of company on Best Buy's shelves. Already being sold there are PCs from several of its main rivals, including HP — which now holds the market-share crown Dell once claimed — as well as Lenovo and Taiwan's Acer.
Still, landing the partnership is a major win for Dell, Enderle Group Principal Analyst Rob Enderle told the E-Commerce Times.
"Getting Best Buy for Dell would be like Hillary Clinton getting Rudy Giuliani to endorse her for president. This is huge because Dell and Best Buy often view themselves as competitors," he said. "In brick-and-mortar consumer electronics retail, there is no one more powerful than Best Buy."
The result is a sort of trifecta for Dell, with the top online sales channel, the biggest general retailer in Wal-Mart and now the top electronics retailer.
However, "this happened too late in the season to make as big an impact this year as it will make next [year], but this should put everyone else on notice, particularly whoever lost the shelf space that Dell just acquired," Enderle added. "This should help them a lot and do a good job offsetting what has traditionally been HP's biggest advantage over them. HP is nowhere near as strong in direct, and the belief Dell just shattered is that you can't be strong in both."
Part of the Puzzle
Dell has also launched a new channel sales program through a partnership with Salesforce.com, its first sizable embrace of third-party resellers aimed to boost its business sales much like retail is aimed to expand its exposure to consumers.
While Dell's initial retail efforts were somewhat limited and targeted — it is making custom machines available in Wal-Mart stores and Staples' is a more of a specialty retailer — the Best Buy deal leaves no doubt it is going all-in on retail, said Gartner analyst Martin Reynolds.
"The first deals showed they might just be testing the channel, but there's no doubt now they see it as a necessary part of the retail strategy," Reynolds told the E-Commerce Times.
PC sales have gone through several cycles, with retail a major factor that turned Gateway into a top seller in the 1990s. Today, the success of Apple in the PC is credited in part to its innovative retail strategy, he added.
After a terrible year that saw it caught up in Sony's laptop battery recall and operate under the cloud of an accounting scandal, Dell has shown signs it is on the road to recovery in recent months. Its second-quarter earnings impressed Wall Street, though it warned last week that its third-quarter results would fall short of its earlier forecasts.
"Dell's recovery has been due to a series of things — retail being one of them — that span improving products, to improving service, to getting costs in line with revenue," Enderle said. "The retail push has a great deal to do with the last, because as you push revenue up, that helps correct the financial problems the firm was having. It is hard to fully convey what a big deal this is. Dell getting Best Buy was thought to be impossible."
Dell shares rose about 1 percent in morning trading Thursday to US$24.57.