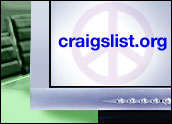 You can buy furniture, look for a job and seek an apartment on the popular online classified ad Web site Craigslist. But a quick check of the "erotic services" category for Seattle yields another possible transaction, one featuring a "tall, sexy, seductive blue eyed bombshell" calling herself "Emily."
"Hey fellas, back in town, only to the 10th. The perfect package," Emily writes. The ad includes a list of suggested "donations" attached to some two-letter abbreviations, including some under the heading "fetish."
Ads like "Emily's" prompted Sheriff Tom Dart of Cook County, Ill., to file a federal lawsuit Thursday alleging that Craigslist has become the top provider of prostitution in the U.S. "Missing children, runaways, abused women and women trafficked in from foreign countries are routinely forced to have sex with strangers because they're being pimped on Craigslist," he said during a press conference.
Dart wants Craigslist to shut down the erotic services category of its Web site and compensate his department for the costs of prosecuting Web site-related prostitution cases. But Web free speech advocates say existing laws insulate Craiglist from any illegal activities related to its ads, and they predict a quick defeat for the sheriff's legal efforts.
Craigslist's Response
Craigslist has a long history of cooperating with law enforcement, according to company spokesperson Susan McTavish Best. "While we have not yet seen the complaint filed by the Cook County Sheriff, misuse of Craigslist to facilitate criminal activity is completely unacceptable, and we continue to work diligently to prevent it," she told the E-Commerce Times. "Misuse of the site is exceptionally rare compared to how much the site is used for legal purposes. Regardless, any misuse of the site is not tolerated on Craigslist."
Best pointed to efforts late last year to rework the Web site's terms of service agreement and crack down on any illegal activity by requiring credit cards and phone numbers for those posting on the erotic services part of the Web site, setting up a clear warning/disclaimer page before entering the erotic services portion, and removing ads flagged by other users as inappropriate. Those actions were taken as part of an agreement with 40 attorneys general, who had raised their own concerns regarding escort service/solicitation ads on Craigslist.
"Craigslist is an extremely unwise choice for those intent on committing crimes, since criminals inevitably leave an electronic trail to themselves that law enforcement officers will follow," Best said. "On a daily basis, we are being of direct assistance to police departments and federal authorities nationwide." Best provided a link to a Craigslist blog posting detailing the agreement with the state attorneys general.
The Lawsuit's Chances
Despite those efforts by Craigslist, some suspicious ads may still get on the site. But section 230 of the Communications Decency Act protects Craigslist, according to Brock Meeks, director of communications for the Center for Democracy and Technology. "Service providers like Craigslist are given a safe harbor," Meeks told the E-Commerce Times. "They are not responsible for any crimes or any of the content that people put up on their Web sites. It goes along with the policy that we don't want service providers becoming gatekeepers. If that happens, then all of a sudden they become de facto arms of the police department or law enforcement community, and we don't want that. We want them to provide us the service but not put their thumbs on the content.
Matt Zimmerman, senior staff attorney with the Electronic Frontier Foundation, says there may be an ulterior motive for Dart's actions, since he's also giving it little chance of proceeding thanks to a 2007 Federal Court of Appeals case — also against Craiglist — that held the company was not liable for allegedly discriminatory housing ads placed on the site. "What's probably going on here is an attempt to try to pressure Craigslist in the court of public opinion by literally making this a federal case, and trying to shame them into essentially doing something more," Zimmerman told the E-Commerce Times.
"Craigslist did enter into that agreement with the 40 AGs around the country to voluntarily do certain things to improve screening processes," Zimmerman said. "This may just be an additional attempt to try to get more out of them."