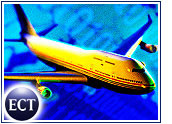 Sabre Holdings (NYSE: TSG) said Tuesday that it will seek to buy all outstanding shares of Travelocity.com (Nasdaq: TVLY), a move that would give Sabre full control of the travel site.
Sabre said it would offer US$23 in cash for each outstanding Travelocity share, a premium of nearly 20 percent over Friday's closing price of $19.20. About 15 million Travelocity shares are in public circulation, making the buyout worth an estimated $345 million.
Travelocity shares shot up 30 percent in early trading Tuesday to $24.99.
Converging Strategies
Sabre, which is Travelocity's controlling shareholder with 70 percent ownership, said the move reflects the fact that the strategic goals of the parent firm and the online travel site are overlapping more often.
"The company determined that the long-term strategies of Sabre and Travelocity are converging," Southlake, Texas-based Sabre said in a statement. "Sabre believes it makes sense to combine the strengths of both companies to pursue new revenue opportunities, while optimizing investment decisions across companies."
Mulling It Over
For its part, Travelocity said it has formed a special committee to review the bid. The company also has brought in Salomon Smith Barney for financial advice and has hired outside legal counsel.
Travelocity noted that while the offer comes at a premium over Friday's closing price, its shares have traded at an average of $24.30 over the past 60 days. During the past year, Travelocity shares have traded between $9.92 and $38.79.
In fact, the company has performed well on its own, establishing itself early in a crowded marketplace and becoming one of the first travel sites to record an operating profitin April of last year.
More recently, Travelocity struck a deal with Walt Disney to offer theme park tickets and hotel reservations through its Web site.
Circle the Date
Sabre said it will commence the offer on March 5th and added that the purchase will not affect its 2002 financial results. Sabre shares closed Friday at $45.28.
Sabre booked 2001 revenue of $2.1 billion, most of it gleaned from its worldwide travel reservation system. Sabre also owns GetThere, which provides business travel reservation systems.
Last August, Sabre told the U.S. Securities and Exchange Commission that it would raise $400 million in cash by selling corporate bonds. The company said on Tuesday that it will reserve the right to seek additional funding for the deal, although it does not need to do so.
If the merger is completed, Travelocity will maintain its independence, Sabre said.
"Sabre does not plan to change Travelocity's executive team, strategic direction or brand," the company noted.