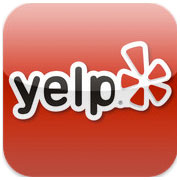 Strong revenue figures helped Yelp beat analysts' expectations for the second quarter of 2013, sending its stock soaring by more than 20 percent following the Wednesday release of its earnings report.
While the company reported a loss of 1 cent per share, revenue rose to US$55 million, representing a full 69 percent increase from the same time a year ago. Analysts had expected closer to a loss of 4 cents per share on revenue of $53.3 million.
Yelp's local advertising business, meanwhile — its main source of revenue — was also up during the second quarter. The company brought in $44.8 million from local revenue, a 77 percent increase from the same period a year earlier. Average monthly traffic was up as well, reaching 108 million unique visitors during the quarter — a 38 percent year-over-year increase.
"In the second quarter, we launched new features on the mobile app and created a Call to Action feature, yet another way for us to close the loop between consumers and local businesses," explained Jeremy Stoppelman, Yelp's CEO. "As we look to the rest of the year, we will continue to focus on driving innovation in mobile, integrating Qype and closing the loop with local businesses."
Yelp did not respond to our request for further details.
'A Mediocre Reputation'
Investors delighted in the earnings report. Yelp's stock rose more than 22 percent in after-hours trading on Wednesday and going into the afternoon on Thursday, trading at more than $51 per share.
There's no question Yelp is growing steadily and carving out a place for itself in the market, but the enthusiastic reaction from investors might be somewhat premature, said David Mihm, local search engine optimization specialist and director of local search strategy for Moz.
"I remain surprised that Wall Street is so bullish on Yelp," Mihm told the E-Commerce Times. "It continues to have a mediocre reputation among the majority of business owners whom it depends on for advertising dollars."
Yelp has done "a phenomenal job carving out a branded niche in between Google and Facebook as a consumer destination, but there still aren't enough consumer eyeballs to justify the expense of their advertising," he added.
That's partly because a form of advertising — the customer reviews and testimonials that Yelp features — are already built into the site, Gordon Owens, digital marketing professional at GO Digital WSI, pointed out. "If a vendor has great reviews on Yelp, there is little incentive to choose to spend a portion of its advertising budget there.
"Good businesses get plenty of good reviews on Yelp and therefore get the benefit of Yelp listings displaying in search results without paying Yelp a dime," Owens told the E-Commerce Times.
Food Delivery
Yelp said Wednesday that local advertising will continue to be the core of its business, but it did announce recently that it is expanding its platform to add on-site food delivery capabilities in some areas of the country.
The service, which is in partnership with Eat24 and Delivery.com, will allow customers to browse Yelp, order food and have it delivered, all without leaving the site. Yelp then receives a cut of the transaction. The company hopes eventually to add the ability for customers to make appointments at places like dentists' offices and hair salons via the site as well, it said.
Those, indeed, are moves that can help the site live up to the bullish expectations of investors, Greg Sterling, founder of Sterling Market Intelligence, told the E-Commerce Times. Not only do they bring in another steady revenue stream, but they could also possibly incentivize businesses to take advantage of more advertising options on Yelp.
'More Than Advertising'
"The new focus on transactions and the Yelp platform help offer value to local businesses beyond advertising but also complement Yelp's ad options," Sterling explained. "It may also turn out that those businesses that take advantage of Yelp's new transactional offerings are more inclined to advertise and vice versa. It remains to be seen."
An expanded business model is going to be essential to Yelp's sustainability, Mihm agreed.
"They're going to have to provide more than advertising solutions in the long-term to bring utility to business owners beyond just an expensive CPM proposition," he concluded. "The move to transactions is a smart one."