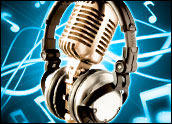 As the Internet and digital technologies continue to play an ever-increasing role on the business side of the music industry, big-name recording artists have begun to turn their backs on their labels and opt instead to strike out on their own.
Part 1 of this two-part series describes what longstanding acts like Radiohead and Nine Inch Nails have done to distribute their music online on their own terms. However, what options do up-and-coming artists have? Can they also thumb their noses at the establishment and try to make a name for themselves on the Internet? What role do social networks such as MySpace and music-centric sites like JamNow and Sonific play, and does their growing popularity mean an unknown could make it big having never signed a contract with a major recording label?
Same Old, Same Old for Newbies
Although the Internet underpins an evolving business model that has created new opportunities for established artists to connect directly with consumers, further reducing the role of recording companies, it has not led to major changes in the part the industry plays with new artists who are not yet known on a national scale.
For them, the traditional system — getting noticed by a label that then takes them under their wing, providing expertise to help them attain their potential as well market, promote, sell and finance themselves — is for the most part still the only option.
"The bottom line is, Radiohead is unique. Radiohead was built by a major label. They have credibility and an audience, etc.," said Bob Lefsetz, a recording industry expert and author of "The Lefsetz Letter" e-newsletter.
"New acts cannot replicate this because they do not have all the marketing and investment that a major [act] has had," he continued. "What we're seeing is on one end, the big acts when their contracts expire — the Eagles, Madonna — they're going it alone. But the small acts have to give the music away in order to get their message out, and if they sign with a label, usually they can get them on radio and exposed."
The popularity of social networking sites such as MySpace and others help new artists makes an artist's or band's music available to the masses, but it does not "break" them, Lefsetz told the E-Commerce Times.
"The fans themselves have to break you. Someone tells me about an act, I know I can hear it on MySpace, but I'm not going to surf endlessly on MySpace looking for a new act," he stated.
Social Environment
One example of an unknown brought to the attention of the record labels via the Internet is Soulja Boy. His hit "Crank That" and its accompanying dance began not within the confines of a recording studio but rather as a video on YouTube. The fledgling young rapper used the Internet to market his music and build a fan base with then-partner Arab.
The pair began by uploading songs to SoundClick, a site that allows music lovers to comment, rate and download songs, according to the biography on Soulja Boy's Web site. After receiving positive feedback, the future chart topper decided to set up his own Web site to help get the word out about his music. That early marketing effort paid off, and in 2004 at the tender age of 15, Soulja Boy had a manager and started performing live gigs.
Since the "Crank That" hit on YouTube, it has logged more than 17 million views. Souljaboytellem.com, the rapper's debut album released by Interscope Records, entered the Billboard charts at No. 4. "Crank That" stayed at No. 1 on the Hot 100 for seven consecutive weeks. His MySpace profile reportedly has had more than 14 million visitors. However, even though the teenage MC — whose given name is DeAndre Way — already had an established audience when he "came into the game," as his manager said, he needed to a recording contract to take his career to the next level.
"There are an ungodly number of new artists [on MySpace]," Mike Goodman, a Yankee Group analyst, told the E-Commerce Times. "It needs a better way to find them, but that is the second step. If you're really going to break the hold that the record labels have on the music industry, it's going to be by established musicians. It's not going to be broken by new artists."
Once the labels' stranglehold has been broken, then the development of new technologies that make it easier to search for and find new artists will usher in the second phase in the music industry revolution, according to Goodman.
"[New artists] can get their music recorded. They can get it distributed and there are mechanisms in place most importantly for the user to discover it," he explained. "The market needs to emerge more for artists to record and distribute directly without the intervention of a record label. And as that market begins to emerge more then you're going to start to see entrepreneurs say here is that opportunity."
Future Labels
As the transition to digital formats continues and surrounding technologies continue to improve over the next five to 10 years, the relevancy of big-name recording labels will begin to diminish — or at least change in very fundamental ways — Goodman said.
"They don't serve a purpose and they don't have a purpose. In a digital world where recording artists can create their own music — and probably do it more efficiently — and where artists don't need a record label to distribute their music, the record label doesn't serve a purpose in that world as it stands today."
The names Sony Music Group, EMI and BMG will continue to exists in terms of their brand, but what they do will be fundamentally different, Goodman predicted.
"They will become professional service types of companies. They will have to morph their business and become more like UT and talent agencies, rather than record labels. And clearly talent agencies do not have the same leverage," he added. "If you look at a record label five to 10 years from now, you will not recognize it as the same business."
In a digital environment, the record labels' role as a middleman is rendered superfluous, Goodman noted. The defection of Radiohead and NIN proves that times have changed. Couple that with the fact that recording music can be done a lot more cheaply and efficiently by the artists themselves now and the record industry looks all the more bloated and anachronistic.
Compact discs will still sell for some time to come, but 10 years from now people will pay for music for an interim period, and music stores will have become obsolete, Lefsetz predicted.
"Certain independent stores will still exist, just like vinyl still exists," he said. "But the vast majority of product will be acquired on line."
With the switch from a physical transfer medium to digital, the price of buying a full album will drop significantly.
"I would be stunned if the price isn't a small fraction of what it is. It's kind of like cell phones. Twenty years ago, a cell phone was $1,000 and a buck a minute. Now 10-year-olds have cell phones. Everyone will pay for music, but everyone individually will be paying less," he stated.
In the future, with the advancement of technology and the changing role of recording labels, anyone will be able to live their dream and produce an album. The caveat, however, is that musicians will have to rely more on actual talent and less on a powerful corporate marketing machine.
"The recording tools are there already," Goodman concluded. "And the market will punish those who are not talented enough to do it themselves. If musicians cannot do it themselves and aren't good enough to make the music and lay down a guitar track, then they are not going to succeed. They won't be able to hide behind a remix in a studio."