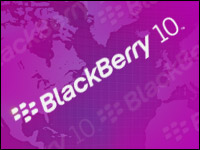 B-day is looming for Research In Motion: On Jan. 30, the BlackBerry maker will debut its new BB10 platform. Over the past several months, RIM has been steadily revealing information about the OS and the devices that will run it. More information about its strategy came to light at CES, where CMO Frank Boulben spoke to FierceWireless earlier this week.
RIM plans to release at least six BB10 devices in 2013 that will target a range of price points from low to high end, he told the publication.
It hasn't inked an exclusive relationship with any carriers, Boulben said, allowing it the freedom to pursue various strategies in different market segments.
RIM did not respond to our request for further details.
Thousands of Apps
There will be about 70,000 applications for BB10 accompanying the launch, Boulben emphasized. That number has already been in circulation, though, illustrating RIM's awareness that it needs to prime the pump as much as possible with potential buyers — and the industry in general — in the run-up to the long-awaited release.
In response to every shred of information the company leaks, though, critics are waiting to pounce. Those 70,000 applications? Great — but how many are legacy apps, and how many are specifically designed for the BB10 environment?
Such nitpicking may not seem fair to RIM or its advocates, given how much effort the company has put into developing the new platform. However, it's an indication of just how long a road RIM will have to travel to regain the industry's confidence.
BYOD Friendly
The initial release will include two devices: One will be all-touch, and one will sport a QWERTY keyboard.
RIM's core differentiator — strong security — will remain a focus. For example, the BlackBerry Balance feature will allow users to store both personal and business sets of information on the same device with the same level of security. This is in response to the BYOD (Bring Your Own Device) trend that has taken hold in corporations.
Critics are not impressed, however. BlackBerry Balance and the tidbits RIM has been releasing, such as the promise of 70,000 apps, don't have enough of a wow factor.
Been There, Done That
"Unfortunately for RIM, its BB10 strategy will be a case of too little, too late," Cameron Yuill, CEO and founder of AdGent Digital, told the E-Commerce Times.
"RIM's core strategy of selling to corporations has been decimated, at least in the developed world," he said. "That cannot be reversed. So that leaves RIM trying to compete in the consumer market. No matter how good the BB10 handsets are, they will not be wildly different from anything else available on the market. That leaves RIM competing on features."
Apps are the key features that consumers want, but 70,000 pales in comparison to the number of Android and Apple offerings available, Yuill said.
"RIM is turning up late to a party that has been in full swing for some time. Waving around BB10 is not going to attract anyone's attention," he predicted.
At Least 6!
Nor will Boulben's revelation of varying price points or the promise of six or more devices in 2013 be likely to set mouths watering.
The only thing that could grab people's attention would be a feature entirely new to the market, said Trip Chowdhry, managing director of equity research for Global Equities Research.
"They missed the boat with consumers and smartphones and apps," he told the E-Commerce Times. "What they should be doing is something entirely new. BB10 would have been highly successful if it launched in 2007 — but it didn't, of course."
BB10 could succeed, Chowdhry allowed — if it could offer stunningly superlative functionality.
"It has to be 10 times better than what iOS and Android can do," he maintained, "and so far, I haven't seen evidence that it is."