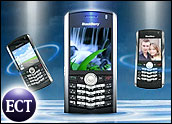 Research In Motion, maker of the ubiquitous BlackBerry handheld e-mail device, is moving deeper into the consumer market, where it is sure to run up against tough competition from Apple's iPhone.
Earlier this year, RIM forged a partnership with social networking site Facebook that lets BlackBerry device owners access information from their Facebook pages.
Now, RIM has announced partnerships with a host of new companies that will give BlackBerry owners access to Windows Live Search, Google, Ticketmaster applications, MySpace, Internet radio station site Slacker, and interactive television company TiVo.
New Set of Customers
"If you look at RIM's business and how it's changed over the last few years, specifically with the Pearl handset, they're expanding from a traditional enterprise customer base to a broader consumer market," Charles Golvin, a wireless analyst with Forrester Research, told the E-Commerce Times.
The bevy of partnership announcements is just the latest move by RIM to tap into the consumer market.
"They still have their core business and value proposition built around e-mail and messaging, but they've been adding support for video, better cameras, and all the things that fit into the consumer side of the market for a while now," Golvin said.
Consumer Applications
The partnerships with Microsoft's Windows Live Search and Google have an obvious goal — to get BlackBerry users the fastest, most relevant, location-based search results possible, Golvin said.
The partnerships with MySpace, Ticketmaster, TiVo and Slacker serve the same purpose as RIM's alliance earlier this year with Facebook — to make the BlackBerry a "lifestyle" device.
"All of those things are cool," Golvin said. "I think what it shows is that people who use BlackBerrys are increasingly from the consumer market. These people aren't just people who care about work and e-mail. They also care about media and content."
Consumer Devices
The announcement of the new partnerships comes on the heels of RIM's introduction of a new device this past week at a trade show organized by wireless industry trade and lobbying group CTIA.
The new device, the BlackBerry Pearl Flip, uses a flip form factor for the BlackBerry Pearl, which RIM introduced about two years ago. A release date has not been announced for the Pearl Flip, but RIM said it will be offered through mobile operator T-Mobile USA.
RIM offers another consumer-centric device, the BlackBerry Bold, but it is only available in Europe and Canada right now. Its U.S. release is expected in October through AT&T.
"Clearly, the growth opportunity for RIM is outside of the enterprise," Scott Pope, an equity analyst with First Analysis, told the E-Commerce Times. "There are a lot of compelling offerings like the iPhone. The BlackBerry is becoming more and more intertwined with someone's life. It's becoming more of a lifestyle device."
RIM is also trying to get BlackBerry device owners to replace their older phones at a faster clip. "These apps become more and more demanding from a computing standpoint over time," Pope said. "People will need to upgrade their mobile phones in order to use those applications."
RIM Is Growing Fast
Like many of its competitors in the handheld market, RIM is growing very quickly.
In the fiscal year ended March 31, 2008, RIM reported earnings of US$1.7 billion on $6 billion in revenue, up from earnings of $800 million on $3 billion in revenue in the previous year.
"They're growing at a tremendous clip," Pope said. "The question is how long they will continue to grow that fast. There's no sign of any slowing. What's driving it is consumer adoption of BlackBerry devices such as the Pearl."