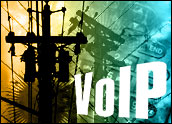 A Silicon Valley startup with an unlikely name announced Monday a new platform designed to enable telephony in a wide variety of applications.
Using an open platform to facilitate connections between telephony and the Web, Ribbit is working with a community of more than 600 developers to help voice-enable a raft of new applications. One for Salesforce.com, for example, will allow users to call clients via the Internet from within the application, automatically storing a log and voice mail transcripts.
"The world doesn't need another phone company," said Ted Griggs, Ribbit's cofounder and CEO. "What it needs is a new kind of phone company, one that liberates voice from its current confines — devices, plans and business models — and more readily integrates into the workflow of our professional and personal lives."
Open API
Toward that end, Ribbit's platform includes the Ribbit SmartSwitch, which is based on a Lucent-tested Class 5 softswitch. The open Flash/Flex-based application program interface (API), meanwhile, enables all developers — whether they're familiar with telephony or not — to quickly build innovative, rich voice applications and integrate them into Web sites, communities and applications, Ribbit said.
By connecting voice from any Flash-enabled browser to the PSTN (public switched telephone network) and new VoIP (voice over Internet protocol) networks, computers everywhere can be used as the next generation of phones, and developers — not service operators — are the ones who will decide how they work, Ribbit said. Developers will also be able to use the platform's back-office and service delivery infrastructure to sell their applications.
"It's a very innovative idea — not only does Ribbit provide developers with a way to easily integrate voice into almost any kind of Web application, they will also provide a platform for testing and selling new services," said Will Stofega, research manager for VoIP services at IDC. "Ribbit's arrival comes at a time when telephony and computing are truly converging."
Coming Soon
The Ribbit for Salesforce workflow integration will be available for Salesforce.com customers in the first quarter of 2008 via the AppExchange.
"Ribbit is a great example of the new breed of innovative partners that Salesforce.com is working closely with to deliver the potential of the Force.com platform," said Clarence So, chief marketing officer at Salesforce.com. "Mobile voice in Salesforce workflow is a combination that is sure to bring productivity breakthroughs to many Salesforce customers."
Also in the first quarter, Ribbit will open its service to consumers featuring the first innovations from its developer community, and will sell commercial and enterprise packages to developers selling services that use the Ribbit platform.
Both the consumer and the enterprise markets will be key areas of focus for Ribbit, the company said.
Focus on Applications
"Technology and protocols are all nice, but to move forward the industry needs to figure out how all this stuff plays with respect to applications," Stofega told the E-Commerce Times. "That's the overarching interest in a company like Ribbit."
Network-ready, or at least network-grade, applications are the goal, and will be the key to bringing applications to the next phase, Stofega added.
"In general, it's been pretty much accepted that in the future, voice communications will be driven by applications rather than by subscribing to a service," Keith Nissen, a principal analyst with In-Stat, told the E-Commerce Times. "With initiatives like Ribbit and Google Android on the mobile side, basically what we're seeing is that there's a lot of momentum behind having open networks and using the Internet to access applications rather than a network service provider."
The future will likely bring a hybrid environment in which everyone has multiple ways of accessing different applications and in which the application determines which mode is used, Nissen predicted.
Click-to-call buttons in applications, for example, will make it possible to make phone calls directly from inside applications, he added, and those applications will determine how calls are made. A user working in an eBay application, for example, might make a call that goes through Skype, while calls from another application might go through Google, Yahoo or Verizon Wireless, for example.
Less Control
"The key to this is that you as a user are now no longer in complete control over who provides that voice connection," Nissen noted. "The application is dictating who is providing the click-to-call VoIP connection."
The result will be a shift in emphasis in communications away from subscriptions, he said.
"This is a growing trend," he explained. "It will change the whole way we think about personal communications and communicating in general."