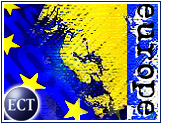 Any continued weakness in the European economy could have a major impact on the demand for information technology (IT) products and services over the next three years, according to a report released Monday by IDC.
The Framingham, Massachusetts-based research firm said that with indicators pointing to the possibility of a more severe downturn in Western Europe, the U.S. technology slowdown is more likely to spread to Europe.
IDC's worst case scenario is that the global slowdown could reduce worldwide IT spending between 2001 and 2003 by as much as US$150 billion, with $50 billion less demand from Europe.
"Software and services are still expected to show strong growth this year," said Stephen Minton, manager of IDC's Global IT Economic Outlook research program and the European IT Markets Center.
"Similar to the story in North America, we expect that any economic slowdown would have its most severe impact on hardware demand," Minton added. "Historically, hardware spending is highly vulnerable to swings in the overall economy."
Numbers Game
IDC said that based partly on economic forecasts during the first half of 2001, it expected the European IT market to show double-digit growth throughout this year. The research firm added that a slight slowdown in economic growth was not expected to have a big impact on IT spending because of regional market dynamics.
However, spending in some segments of the IT hardware market, including networking equipment and PC sales, had dropped significantly.
IDC is currently predicting an 11 percent growth rate for IT spending in Western Europe, but said that if the economic downturn continues, IT spending could grow by only 7.9 percent. The slowdown is expected to last at least into 2002 and possibly into 2003.
Germany, Italy at Risk
"For European suppliers, the importance of understanding the broad economic picture has never been more important," Minton said. "Events in the United States have dispelled the myth that technology spending is immune to an economic slowdown."
The United Kingdom is expected to have the most stable IT sales during the downturn, with Germany and Italy being viewed by IDC as the countries most at risk.
Support Services
While IDC is predicting a falling market for IT products and services, a report released Friday by Gartner Dataquest predicted that the growing demand among consumers for Internet-based support options will help propel a strong spending cycle in the market for such services.
The Stamford, Connecticut-based research firm found that over the next two years, 52 percent of firms expect to boost their capital investment in external hardware support services, while 63 percent plan to increase the amount they spend on outside software support services.
Dataquest's findings dovetail with other recent reports that have projected increased customer service spending. Another study released last week by Jupiter Media Metrix concluded that 74 percent of businesses are planning to ramp up their customer relationship management infrastructure investments by as much as 25 to 50 percent.