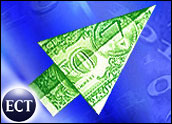 Although many businesses have been curbing new technology purchases, the growing demand among consumers for Internet-based support options will help propel a strong spending cycle in the market for such services, according to a report released Friday by Gartner Dataquest.
The Stamford, Connecticut-based research firm found that over the next two years, 52 percent of firms expect to boost their capital investment in external hardware support services, while 63 percent plan to increase the amount they spend on outside software support services.
"Despite a downturn in IT capital asset spending, users still need to support the assets they have installed," said Gartner Dataquest vice president Eric Rocco. "This trend makes the support industry relatively recession-proof."
Budgets Expanding
According to the study, companies that are looking to beef up their information technology (IT) support budgets anticipate their average two-year increase will be roughly 28 percent for hardware support and 27 percent for software support services.
Meanwhile, the report said only a small percentage of businesses are expected to cut backon their spending in each segment, with 13 percent decreasing their hardwaresupport outlay and 5 percent trimming their software support expenditures.
Dataquest said these figures demonstrate a "very healthy sustainedopportunity" for IT support providers.
No Satisfaction
Still, Dataquest noted that customer satisfaction rates often do not reflect the significant investment vendors have made in the technology.
For instance, while 70 percent of customers surveyed for the study have used Internet-based support services, they also reported receiving a satisfactory answer only 52 percent of the time when using the online channel.
"Vendors must focus on increasing awareness of Internet-based serviceofferings and improve the satisfaction rate for answers to technicalproblems," said Dataquest IT services senior analyst Bog Igou.
To the Web
To that end, Igou said businesses could train their customer service representatives to promote Web site use and instruct customers how to navigate online support options.
"Recordings on the support interactive voice response may also suggestcustomers go the Web," Igou advised.
Gartner's findings dovetail with other recent reports that have projected increased customer service spending. A study released earlier this week by Jupiter Media Metrix concluded that 74 percent of businesses are planning to ramp up their customer relationship management infrastructure investments by as much as 25 to 50 percent.
To compile data for its report on "Infrastructure Support Services: The Customer's View," Dataquest interviewed 253 North American infrastructure support services users that have contracted with external service providers about their spending habits and needs.