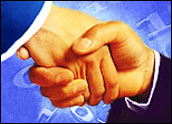 While 2001 is expected to build upon"one of the hottest years ever" for tech mergers and acquisitions (M&A), a report released Wednesday by PricewaterhouseCoopers indicates that potential buyers for technology companies will likely shy away from business-to-consumer (B2C) dot-coms.
Instead, according to the report, selective investors will be doing their shopping in the networking, broadband, wireless optical, and semiconductor sectors.
"Acquirers are going to be a lot choosier about the deals they make, giventhe changes in the equity markets, combined with general uncertainty abouteconomic conditions," said Steve Meisel, partner in PricewaterhouseCoopers'Transaction Services group.
Meisel added, "That doesn't mean that the boom in tech M&A is going awayany time soon. However, it does mean that only deals that promise to helpCEOs seize new market share and technologies will get done."
No to B2C
New York City-based PricewaterhouseCoopers said investment bankers have all but stopped shopping for e-tailers, as their market values and market shares continue to slide.
Venture capital firms that once rushed to invest in dot-coms are exercising more caution now because of the weaker economy and volatilesecurities and credit markets. As they tighten their purse strings, a "significant pool of funds remains uninvested,"the report said, and startups that were once able to get capital on the basis of a good ideaare now having to wait until they have established a track record.
Meisel told the E-CommerceTimes that the coming year could see a further consolidation in the B2C arena,with e-tailers being acquired by brick-and-mortar retailers thatwant to expand their online offerings.
E-tailers hoping to be acquired, according to Meisel, need to demonstratestrong stock margins and be able to show that they are on the "path toprofitability."
Buying B2B
Despite the gloomy outlook overall for e-tailers, Meisel believes 2001will still see some M&A action among business-to-business (B2B) companies, where interest remains high. According toPricewaterhouseCoopers, the interest in B2Bs stems from companies looking to acquire technologies that "keep them close to their existing companies, while opening up parallel markets to exploit growthopportunities."
All evidence points to B2B domination of e-commerce in the coming years.A report released last month by Webmergers, a San Francisco, California-basedM&A tracking company, found that of the 131 dot-comsthat folded between January 1st and the second week of November, 99catered primarily to consumers and only 26 were B2Bs. The remaining sixserved a general business and consumer audience.
A report by released earlierthis month by eMarketer found that the B2B sector currently accounts for79.2 percent of total e-commerce spending, but will command 87 percent of thetotal by 2004, when worldwide B2B spending will reach US$2.776trillion in revenue. eMarketer predicts total e-commerce revenue willreach $4 trillion by 2004.
Along with buying B2B dot-coms to acquire new technologies,PricewaterhouseCoopers predicts that acquirers will also be targetingcompanies in markets with extremely low unemployment — like Austin, Texas; Boston, Massachusetts;Northern Virginia; North Carolina's Research Triangle; and California's Silicon Valley –to gain access to high-tech employees.
"This is not going to be a big-spender's market, with deals getting donesimply because there is capital to do them," said Meisel. "The deals thatget done will be those that have strong potential to shorten time-to-marketand increase market share. If they don't increase cash flow and earnings –or have the potential to do so in the near term — they're going to be a lotharder to justify."
The Year That Was
Among the most high-profile of high-tech marriages this year was the $111billion merger of America Online and Time Warner. Originally proposed inJanuary and approved by stockholders this summer, the deal was given thegreen light by the U.S. Federal Trade Commission (FTC) earlier this month.
Also merging this year were online supermarkets HomeGrocer.com and Webvan. Webvanpurchased HomeGrocer.com in June for $1.2 billion. However, the merger hasnot been without problems as HomeGrocer.com has slashed roughly 150 jobssince the acquisition was announced and Webvan reported awider-than-expected loss for the third quarter due in part to the takeover.
Another dot-com tale missing a happy ending is the acquisition of Petstore.com by rival Pets.com. When the deal was announced in June, it looked as if Pets.com was on the trail to becoming the Web'sleading pet e-tailer. However, in November Pets.com announced it wasshuttering its virtual doors after a "lengthy and exhaustive" effort toraise capital failed.