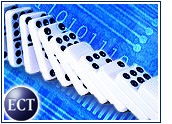 One-third of the 131 dot-coms that have folded this year have done so in the past seven weeks, according to a study issued Thursday by Webmergers, a San Francisco, California-based mergers and acquisitions tracking company.
The firm, which drew its research from more than 50 information sources, also found that a pervasive factor in the demise of dot-coms was that they simply could not win their races against time.
Quite a Cycle
During the first two weeks of November there were 21 closures, to go with 22 in what was, at least temporarily, a record month of October. Notably,dot-com casualties in November include names that would have seemed to have their markets cornered: Pets.com, Garden.com and Furniture.com.
The accelerated closure rate is "a natural cycle that's occurred in every technology revolution," Webmergers president Tim Miller said in a published report. "Only now, the highs are higher and the lows are lower. It's a marketplace on speed."
However, Miller predicted that "by the middle of next year, we'll see signs of profits for Internet companies."
Closures Snowballing
Webmergers said that in the past three months, 59 Internet companies have shuttered their virtual doors, compared to 45 in the previous three months and 17 in the three months before that.
Most of the dot-com casualties, a total of 99, served a primarily consumer audience, according to Webmergers. There were 26 business-to-business companies on the list and six that served a general audience of business and consumers.
E-commerce firms, many of which were unprepared to face a "grueling holiday buying season," according to Webmergers, accounted for 57 percent of the closures. Content firms accounted for 24 percent, 10 percent were Web services companies and 9 percent were in Internet infrastructure.
Lay of the Land
High-tech haven California has suffered most of the closures for the year with 35 percent. Webmergers said that 11 percent of the shuttered companies so far were based in New York and 8 percent hailed from Europe.
Dot-com shutdowns have cost approximately 8,000 employees their jobs, according to Webmergers.
Despite the seemingly high number of dot-closures, only a small percentage of the dot-coms in operation have shut down, according to Miller, who estimated that close to 10,000 Internet firms remain in existence.
The Case For Mergers
As part of its research, Webmergers surveyed mergers and acquisitions experts to analyze why so many companies have "shut down without finding merger partners, even at fire-sale prices."
Webmergers found that many of the companies ran out of time waiting for second- or third-round venture capital funding to arrive. In many cases, that funding was never going to come, as some VC firms decided that it was simpler to close a dot-com rather than try to convince other buyers to come to the rescue.
Brick-and-mortar companies were of little help, according to Webmergers, which quoted one analyst as saying that "it might be just more fun for bricks-and-mortar companies to watch these dot coms die." As time passed, many dot-coms bled money and lost whatever attractiveness they might have had.
In addition, as a greater number of capable workers entered the high-tech talent pool, the motivation to buy companies merely for their employee rosters diminished. Finally, some dot-coms never had worthwhile assets or business models to begin with.