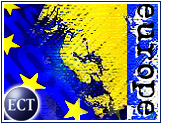 Online business-to-consumer (B2C) e-commerce will continue its struggle to take hold in Central Europe, while business-to-business (B2B) e-commerce will see a much more robust growth in the region, the European branch of research firm IDC told the E-Commerce Times on Wednesday.
According to a new IDC report, total e-commerce revenues for Central Europe barely broke the US$100 million mark in 2000.
That number is expected to grow to more than $650 million by the end of 2001, but B2C will reach only about $250 million, a relatively small total compared to other countries with similar levels of Internet penetration, the report said.
Portugal's Pitfalls
Scott Moore, European analyst for IDC, told the E-Commerce Times that to put the numbers into perspective, Portugal, which is about a third of the size ofCentral Europe, is predicted to reach almost $850 million in annuale-commerce revenues.
Part of the problem is that the region's regulations and administrativepractices make electronic payment difficult, and few consumers or companies have credit or debit cards, Moore said.
"The growth rate is not so dramatic considering that the market is stillrelatively small," Moore said. "One of the major challenges is that mostsmaller companies, and consumers, still do not have access to the basicinfrastructure which enables e-commerce, Internet access, or even PCs."
Web or the Mall?
E-business in Central Europe may face its stiffest competition in — of all things — real-world shopping malls. Moore said there has been a boom in shopping mall construction over the past several years, which are seen as complete entertainment centers with a much larger and more convenient selection of products than central Europeans can find online.
"In general, central Europeans are more reluctant to consider online purchasing because of social and cultural reasons," Moore said. "Localization is even more important in Central Europe than it is in Western Europe."
Back to Business
The news is much better on the B2B side, which IDC predicted will make up two-thirds of all e-commerce central European revenues next year. Onlineprocurement as part of a supply chain will make up a fifth of that total.
According to the report, the high levels of recent foreign direct investmentflowing into the region have laid the foundations for the adoption ofelectronic procurement systems, mainly in the rapidly expanding automotiveand electronics sectors.
Moore said that the Central European economy has become increasingly drivenby large multinationals, whose local subsidiaries are following in the stepsof their international counterparts by investing in the necessary ITinfrastructure and e-procurement.
"Opportunities are opening up now for U.S. and Western companies providingproducts and services which enable e-commerce," said Moore. "On the otherhand, the majority of small/mid-sized companies in the region will onlygradually adopt Internet technology and e-business. This makes addressingthis market segment difficult even for local e-commerce players."
Tread Carefully
Ultimate success in the region depends on the type of business you have, Moore said.
"A company already focusing on say, the top 1,000 companies in Western Europe, should now look seriously at expanding their addressable market to includethe largest companies in Central Europe," advised Moore.
However, the strategy for companies targeting small/medium-sized enterprises maybe different.
"Such a company needs to carefully consider when to enter the marketdepending on expected timeframe for a return on investment," said Moore."Depending on the type of product/service, it may make sense to set up asmall local operation or direct presence, which over time gains experienceand critical mass, or it may be more appropriate to acquire or partner withan existing local player."