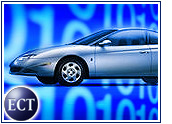 Automakers hoping to leverage the power of the Internet to generate new car sales need to concentrate less on online selling and more on building brand awareness, according to a report released Thursday by Jupiter Media Metrix.
"Given that most consumers will ultimately purchase an automobile offline, automotive advertisers will see little benefit in attempting to drive sales directly through online advertising," Jupiter said.
"Instead, automotive advertisers should emphasize awareness and positioning of their brand or particular features of their cars, in order to provide information that can then influence consumers' offline car purchases," the research firm added.
Jupiter found that online advertising strategies in the automotive industry, particularly at automakers' sites, are already focused on building brand awareness. Seventy-seven percent of advertising impressions by automakers focus on building brand awareness and positioning, with 7 percent targeted toward producing sales.
Web of Confusion
Jupiter also concluded that automotive sites are not making it easy for consumers to find the information they need to research their offline car purchases.
"While automotive original equipment manufacturers (OEMs), dealers, and online buying and information services all strive to connect consumers to cars, consumers are confounded by an abundance of online offerings, often providing confusing information due to incomplete integration between online and offline channels," the report said.
Jupiter noted that 70 percent of the online auto sites do not allow consumers to check the inventory of a particular dealer.
Work With Me
New York City-based Jupiter acknowledged that there has been some progress in automotive sites working together. Ford (NYSE: F) refers customers to Yahoo! Autos for independent reviews, while GM BuyPower, operated by General Motors (NYSE: GM), partners with Kelley Blue Book's KBB.com to link information seekers to local dealers.
In order to drive offline sales, Jupiter said that automotive sites need to "coordinate efforts to promote a connection between sites specializing in reviews and vehicle information and sites specializing in providing price quotes, dealer inventories and transaction initiation capabilities."
Driving Traffic
Jupiter said that automotive research sites, such as Edmunds.com and KBB.com, accounted for 77 percent of the time spent at online automotive sites in March.
On average, consumers spend more time at automotive research sites than at the automaker sites themselves, the report said. Jupiter also found that the average visit to an automotive research site was 19 minutes per month, compared to 11 minutes per month for automaker sites.
Portal to the Medal
The report also found that automotive research services drive only 18 percent of their traffic to automaker sites or third-party buying services. Instead, research sites drive most of their traffic back to major portals, such as Yahoo! (Nasdaq: YHOO), America Online (NYSE: AOL) and MSN.
Portals are the single largest source of traffic for automaker and third-party sites. Automaker sites receive 36 percent of their traffic from portals and third-party sites garner 47 percent of their traffic from them.
Chaotic Marketing
Jupiter is not the first research firm to question the auto industry's online methods. A report issued in February by Forrester Research criticized automakers for using chaotic marketing techniques online.
The Forrester study said that online auto shoppers who go directly to manufacturers are met with "vast, confusing and unpersuasive sites." Forrester urged carmakers to unify online and offline marketing efforts, as television and the Web begin to overlap more often.