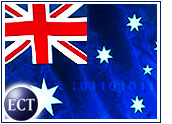 Most small businesses in Australia are "barely active" in e-commerce because they are not fully convinced of its benefits, according to a new report from the Australian arm of IDC.
The market research firm said that 56 percent of small businesses it surveyed currently have no Internet-related revenue. However, company responses to IDC queries indicated that that number could drop to 46 percent over the next 12 months.
"While a significant minority of small businesses will never reach or have no need for [e-commerce]," IDC said, "the survival and prosperity of many other businesses in this sector depends on them adopting e-commerce."
IDC said that these adaptations would "open up a vast array of opportunities for those who can provide the infrastructure and services."
In Your Phase
The three phases of e-tailing, according to IDC, are connectivity, customer connections, and commerce. IDC said that most Australian small businesses are in the first phase, which focuses on using the Web for communication, collaboration and productivity.
The customer connections phase strengthens the foundations in phase one and brings existing trading partners into the loop, through such tools as Web sites and, to a lesser extent, online catalogs, the research firm said.
The third phase occurs when companies begin to use the Web to actually sell merchandise and to reach new customers. IDC said that to bring a small business to the point of actually selling online requires "continued education and proof of concept by the service providers and developers."
IDC added: "The benefits must be clear. Small businesses will react positively to initiatives based on proven, low-cost technologies, which offer short-term returns."
Online Earning
The survey also found that 13 percent of small businesses that have Web pages generate at least a fifth of their total revenue from Internet-related activity. On the other hand, nearly 25 percent of companies that are actively engaged in e-commerce generate at least a fifth of their total revenue from the Net.
Companies most likely to profit from the Internet, according to IDC, are those involved in the service, manufacturing, and telecommunication sectors.
"There is a very strong association between stages of Internet usage and the contribution the Internet makes to revenue," IDC said.
Long-Term Forecast
In a separate report, IDC concluded that e-commerce is expected to be an "important engine" for growth in the Asia-Pacific region.
IDC predicted that by 2005, e-commerce revenues in the region would reach nearly US$600 billion, representing a compound annual growth rate of more than 101 percent from 2000.
IDC predicted that both business-to-business (B2B) and business-to-consumer (B2C) revenues would grow,with B2B reaching $516 billion in 2005 and B2C reaching $83 million the same year.
A report released in January by consulting firm Ernst & Young predicted that Australian e-commerce will grow from $3.1 billion in 2000 to $39 billion in 2004. The number of Australian e-shoppers is also set to increase, Ernst & Young said, from 2.2 million in 2000 to 5.84 million in 2004.