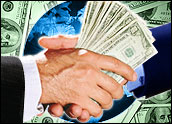 Shares of Georgia-based data-services provider ChoicePoint jumped by nearly half Thursday over their previous closing price after the firm announced that UK-based publisher and Lexis Nexis owner Reed Elsevier is buying it for US$4.1 billion.
ChoicePoint stock jumped by 43.26 percent, to $48.22 by midday on the New York Stock Exchange. The stock, which had a 52-week range of $31.15 and $44.29, closed at $33.66 Wednesday.
Reed Elsevier will pay about a 50 percent premium, at $50 per share over Wednesday's closing price, in an offer of $3.6 billion cash and assumption of $500 million in debt.
Focusing Its Mission
London-based Reed Elsevier, which has reported $8 billion in yearly revenue, said it would be shedding its Reed Business Information unit, which publishes 135 advertising-dependent trade magazines. The company wants to point its revenues in more of a subscription-based direction, it said.
Reed Elsevier shares, which are traded in London, Amsterdam and New York markets, were up 5.49 percent, at $35.96, on the New York Stock Exchange.
The buyout, which is subject to standard regulatory and ChoicePoint shareholder approval, is expected to close during the summer.
"It's kind of a high price," Kevane Wong, an analyst with JMP Securities, told the E-Commerce Times. "The 50 percent premium means either ChoicePoint did a great job of negotiating, or Reed really wanted the company. The crown jewel is the insurance business. It's a near-monopoly, with huge profit margins."
Alpharetta, Ga.-based ChoicePoint, spun off in 1997 from credit bureau Equifax, supplies the insurance industry with risk-analysis information on consumers. The company employs more than 5,000 employees.
"The acquisition of ChoicePoint represents a major further step in the building of Reed Elsevier's risk management business and in the development of our online workflow solutions strategy," said Crispin Davis, Reed Elsevier's chief executive officer. "The market growth in risk information and analytics is highly attractive, and ChoicePoint brings important assets and market positions that fit well with our existing business and, in combination, can be leveraged to provide enhanced products for customers."
Security Breach Behind It
ChoicePoint is fully recovered from a sticky fraud-related case that came to light several years ago, Wong asserted. Early in 2005, the company revealed that thieves, acting under the guise of small-business customers, had gained access to its database and, possibly, personal information on 163,000 U.S. consumers.
About year later, ChoicePoint reached a $15 million settlement with the U.S. Federal Trade Commission on privacy rights violation charges. Settlements with 43 states followed, which involved the company announcing tougher protection of consumer information and a company-funded education campaigns about identity theft.
"They really came away as the poster child for dealing with this type of situation," Wong said. "They addressed the problem actively."
That more than 80 percent of ChoicePoint's business is related to the insurance industry made it a compelling buy, J.P. Morgan Securities analyst Frederick Searby said in a research note.
"In spite of recent challenges at some of the smaller business, the core insurance business continues to thrive with the opportunity for a matching commercial lines business in time," he commented. "The core business represents 80 percent of operating income."
Employee Cuts Coming?
Reed likely will jettison some noncore assets it purchased in the deal, Wong noted. "ChoicePoint has a marketing business they tried to sell a year ago. I wouldn't imagine Reed would want to keep that. The data business fits right in with them."
ChoicePoint likely will cut some of its 5,000-employee workforce after completion of the buyout, according to reports. Personnel changes have not yet been discussed, nor have any possible name or branding changes at ChoicePoint, the companies said.