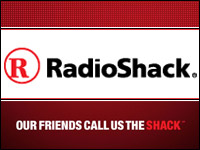 One of the nation's most venerable electronics retailers wants to update its image by calling itself "The Shack" in an upcoming branding campaign, announced Monday.
"We have tremendous equity in consumers' minds around cables, parts and batteries, but it's critically important that we help them to understand the role that we play in keeping people connected in this highly mobile world," said RadioShack Chief Marketing Officer Lee Applbaum.
Store Names Won't Change
The branding won't change the name of the retailer or its stores, but it will show up in advertising and other marketing channels, RadioShack spokesperson Wendy Dominguez told the E-Commerce Times via email.
Even without a full name change, encouraging consumers to think of the retailer as "The Shack" — a nickname RadioShack executives said was created by customers — isn't likely to cut it.
"They've allowed the public to define them, and in doing so the public has sort of made it geek headquarters," said branding consultant Rob Frankel, author of The Revenge of Brand X.
"Now you have a bunch of these Ivory Tower types who've decided they they're going to pander to the latest trend," Frankel told the E-Commerce Times.
The decision echoes the Pizza Hut's decision to reposition itself as "The Hut," Frankel said, among other recent name changes he said were driven by design concepts and advertising gimmicks instead of sound business strategy.
"And it's not working," he said.
Increasing Wireless Emphasis
RadioShack is making the move as it attempts to increase its emphasis on wireless products and solutions. It's adding T-Mobile to the roster of wireless carriers available at 4,000 U.S. stores in an effort to bolster its creds and market share in the wireless space, for example.
Along with many electronics and other retailers, RadioShack has been struggling through the recession, but last month it reported a nearly 22 percent increase in second quarter profits compared to the same period last year
Reasons for Branding Initiative
Consumers and investors so trust RadioShack, claimed RadioShack CMO Applbaum, that they've taken to thinking of the company not as a corporation, but as a friend.
"Trust is a critical attribute of any successful retailer, and the reality is that most people trust friends, not corporations," he said in a statement announcing the initiative. "When a brand becomes a friend, it often gets a nickname — take 'FedEx' or 'Coke,' for example."
Because consumers, investors and employees have long called RadioShack "The Shack," it seemed natural to go with it, he said. "This creative is not about changing our name. Rather, we're contemporizing the way we want people to think about our brand."
Image Boost Possible
The strategy could pay off for RadioShack.
"Following a customer's lead on naming isn't a new idea," David A. Fields, managing director for Ascendant Consulting, told the E-Commerce Times.
"'Federal Express' to 'FedEx' is probably the most successful example, and perhaps RadioShack had that in mind when they came up with 'The Shack.' Early reaction may be derision," he observed, "but what counts is the long run, and I think this will play in their favor."
Or Not
On the other hand, deemphasizing the company's corporate name and image — one known worldwide — feels desperate, said Richard Laermer, CEO of RLMpr.com, and author of Punk Marketing.
"They're trying to be casual," Laermer told the E-Commerce Times. "When people think RadioShack, they don't think casual. They think, 'I've got to go in for a splitter.'"
Unveiling Thursday
The brand will be formally unveiled on Thursday, with television, print and digital media advertising.
The company will host a three-day launch event called "Netogether," featuring a pair of giant simulated laptops — one each in New York and San Francisco — showcasing entertainment and other content designed to demonstrate how technology can connect people across thousands of miles.