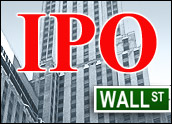 Rackspace Hosting, a provider of enterprise-level managed hosting services, went to market with the tech industry's first initial public offering in six months, winning, at the very least, karmic points for its bravery in forging into a dismal equity environment.
The company, which began trading on the New York Stock Exchange under the symbol "RAX," priced its initial offering of 15 million shares at US$12.50 per share — the low end of its proposed price range of $12 to $16 per share.
Rackspace picked a good day to go to market, noted Frederic Ruffy, the senior options strategist at WhatsTrading.com, a New York City-based provider of options market analysis.
"With help from a substantial decline in crude oil and a surge in the dollar, the Dow Jones Industrial Average is up 300 points in afternoon trading," Ruffy told the E-Commerce Times.
Trading Down
Investors so far have not been enthusiastic about snapping up RAX shares, however. The stock hit a low of $9.75 early in the trading session but was able to climb from there, hitting a high of $11.58 in midday trade.
"After that, the stock seemed to run out of gas and has seen sluggish trading Friday afternoon," Ruffy reported. "At $10.93 a share, RAX is trading 12.6 percent below its IPO price of $12.50 a share."
The share price was $10.01 at market close.
The lack of investor enthusiasm is not necessarily a commentary about Rackspace's business model or prospects Ruffy said. Rather, it is a indication that the finance and equity markets remain hostile to new IPOs. There have only been 36 during the first six months of the year.
"Today's lukewarm results from the Rackspace IPO aren't likely to help," Ruffy continued. "There still doesn't seem to be a lot of investor interest in the IPO market — and that, in turn, isn't likely to motivate other companies to bring many more deals to the market in the short term."
Rackspace is still in its quiet period and is not commenting to the press on its IPO.
IPOs and a Shaky Economy
The fact that Rackspace went ahead with the IPO is more telling about the company than the IPO market right now, which is widely understood to be dead, said Mark Stevens, a partner with Fenwick & West.
"You have to be a strong company to get out in this market," he told the E-Commerce Times. "It is clearly a brutal market environment with tremendous uncertainty around the economy in general and IT spending, in particular."
Fenwick & West handled the tech industry's last IPO, Archsight, which raised $61.8 million.
IPOs tend to perform poorly in poor economic times, as they deliver lower-than-expected returns to the investors, Stevens said. "[Rackspace] came out at the bottom end of the range and still traded down. That is not much incentive for future IPO investors — buying in and then registering a loss within an hour."
More IPOs will come to market when the economy begins to recover, he noted, although he was not willing to predict when that magic event will occur. "I can tell you that there are a lot of quality companies waiting in the wings for the economy to improve."
Another Six Months?
Convio, a SaaS provider of constituent relationship management to the nonprofit space, is one of those holding out for a more favorable climate before it brings an IPO to market, CEO Gene Austin told the E-Commerce Times.
The company just reported revenue of $14.7 million for Q2 2008, a 35 percent increase over the same period last year, he pointed out.
Despite that, "we made the tough decision to postpone our IPO." Austin maintained.
Instead, the company decided to invest the resources it would have put into the IPO process into its product line, he added.