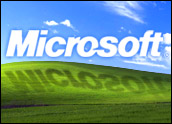 Microsoft revealed its quarterly earnings Thursday, and despite stalled sales of Windows, strong Xbox 360 and Kinect numbers boosted the company's to revenue 8 percent higher than the same period last year, at US$17.37 billion.
Operating and net incomes also increased by 4 and 30 percent, respectively, on the year, at $6.17 billion and $5.87 billion.
Entertainment technologies like the Xbox 360 and Xbox Live drove the jump in profits. The Entertainment and Devices Division, to which the console belongs, reported revenue of $1.49 billion, up 30 percent from last year.
The Microsoft Business Division was the other big earner. The Microsoft Office producers showed a 7 percent bump in earnings to $5.78 billion. Annual revenue for the division is up 16 percent to $22.19 billion.
Microsoft Office products and the Xbox 360 continue to be the leading sellers in their respective markets.
Windows was Microsoft's only division to see a slump in revenue. It brought in $4.74 billion, a 1 percent drop for the quarter and a 2 percent dip for the year. The company reported those figures were misleading, as revenue was slated for Windows 7 prior to its launch. The product continues to sell well and the company expects it will stay in line with PC growth.
Business Approach
With Apple's growing market share in computers and Redmond's missed chances in the smartphone and tablet markets, Microsoft is often viewed by critics as a company in the process of losing its edge and struggling to keep up with trends, foreign markets and sleeker competitors.
"They've had several missteps on the foreign market, and they've missed on tablets and in the consumer market," Sunit Gogia, senior analyst at Morningstar, told the E-Commerce Times.
However, the new numbers may present a more encouraging picture, highlighting areas in which the company can excel. One such area is the Business Division, which sells products such as business PCs and Microsoft Office products.
"Microsoft is doing well in the enterprise business; that's where we can see real success going forward. They're growing there, and that's where they've been demonstrating that they can keep up with competition," said Gogia.
Products such as Microsoft Office 365 helped drive that growth and most likely will continue to do so as consumers take more interest in the cloud.
Business PC growth was also up 8 percent. Sales of PCs to businesses seemed to make up for an overall decline in consumers, where PC sales were down 2 percent.
"I don't expect consumers to drive most of the growth. Enterprise is where I see the bulk of it, and consumer sales are part of those missteps," said Gogia.
Xbox Saves the Day?
Another contributing factor to Microsoft's steady growth were revenues generated by Xbox 360, Xbox Live and Kinect products. Despite sometimes being viewed as an awkward fit for a company whose heart seems devoted to business, the Xbox line has created a profitable niche for the gaming sector within the company.
Still, the company may not be able to rely on Xbox to save the day and must continue to develop its products in other sectors.
"The Xbox division is successful, absolutely, but overall it's pretty low-margin compared to some of the other franchises. Despite 30 percent growth, it's still a small contributor," said Gogia.