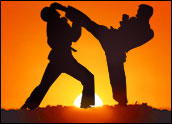 Microsoft has launched an ad for Nokia's Lumia Windows Phone, presumably with the goal of neutralizing competitors enough to make some inroads in the hot mobile market.
The ad is clever and funny enough to accomplish it — depending on how well Apple and Samsung fans handle the ribbing against their beloved devices.
'Aren't You a Little Young for an iPhone?'
The ad depicts Samsung and Apple fans brawling at a wedding after insulting each other's gadgets. It takes jabs at both companies' products, although arguably it's Apple's wares that are more strongly satirized.
'Aren't you a little young for an iPhone?' a Samsung devotee snidely asks a middle-aged woman.
An elderly man cowering under a table barks "karate" into his device — twice. Apparently, Siri doesn't understand.
Perhaps the strongest derision of fanboy ferocity is the shot of a guy ripping open his shirt to proudly display the Apple logo tattooed on his chest.
To be sure, the ad makes digs against Samsung too. The fight starts with a guest asking another to get his "giant phone" out of the way.
Another Apple fan refers to a Samsung device as a "one-trick pony."
With the guests in full fisticuffs mode, a couple of servers watch the melee from the sidelines with expressions of bemusement. Both are holding brightly colored Lumia 920 phones. "Do you think if they knew about the Lumia they'd stop fighting all the time?" one asks. "I don't know," says the other. "I think they kind of like fighting."
Funny or Backlash Bait?
As clever as the ad may be — and it is funny enough to be drawing some extra attention — it is possible it could spark a backlash against Nokia. For starters, if the company's goal is to win over Apple or Samsung fans, it is debatable whether ridiculing them is the way to go about it.
However, Samsung did quite well with its ad campaign lampooning Apple fandom last year, noted Chris Cakebread, an advertising professor at Boston University.
Still, he's no fan of the Nokia effort.
"Strategically this is a derivative — us against them — and execution with no unique point of view that has been done hundreds of time before," he told the E-Commerce Times.
There are other problems with it, Cakebread noted.
Viewers don't realize until 44 seconds into the commercial that it is about the new Nokia Windows Phone, he pointed out.
"There is no personality to the spot," Cakebread said. It's "just a slapstick event with a couple of service people holding a Windows Phone." Its biggest and best trick is the wedding setting.
Apple does seem to be singled out for abuse, he agreed — but likely because the Apple brand is better known.
"It would take a relatively savvy mobile viewer to get the Samsung references," Cakebread said.
For Geeks Only
Perhaps that is the ad's target — the savvy mobile viewer. There is a lot of subtly in it that relatively few viewers would get, said Rob Enderle of the Enderle Group.
"What Microsoft is doing is pulling the barbs from the Samsung ads and Tim Cook's comments," he told the E-Commerce Times.
"Samsung has been portraying Apple users as old, and Cook was calling the big Samsung phones kind of stupid. So their source material is the other vendors," he pointed out.
It's an interesting approach that likely will appeal to those who dislike conflict, Enderle observed.
"It's one of the more creative efforts I've seen done," he added. "The humor has a light touch, with the only downside being that if folks aren't aware of the Samsung ads or Cook's comments, they might think Microsoft is a bit harsh."
It's not a "fair and balanced ad" Enderle also acknowledged, but that's due in large part to Samsung hitting Apple harder, thus giving Microsoft more Apple fodder.
"If Apple had been defending more aggressively, Microsoft would have the material they needed to make this appear more balanced," he said.
Also, Samsung is a licensee of Windows Phone, Enderle pointed out, so Microsoft's hands may be tied in terms of how creative it can be here.
"Samsung is the power over Android, though," Enderle concluded, "and that likely overcame the objections."