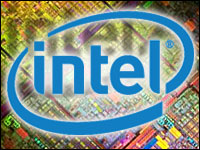 Intel released a quarterly earnings report Tuesday that fell slightlyshort of already low expectations, thanks to weak worldwide PC sales.The world's largest computer chip manufacturer reported first quarterrevenue of $12.6 billion, a 2 percent drop from the same time a yearago. Net income was $2 billion, or about 40 cents per share,compared with $2.7 billion, or 53 cents per share ayear earlier.
Sluggish PC sales contributed to part of Intel's loss, with revenues in its PC business decreasing by about six percent to $8 billion. Intel's growing data service business helped offset those losses, though, with a 7.5 percent gain in the division that includes server chips.
The company remained confident that it would see a brighter second half of the year, helped by the launch of a next-generation PC microprocessor, chips for tablets and smartphones, and a transition to 14 nanometer technology.
Intel did not respond to our request to comment for this story.
No Help From PCs, but Holding Its Own
Market research firm IDC found last week that PC shipments in the first quarter of the year plunged nearly 14 percent, its largest quarterly fall since the firm began tracking the industry in 1994. IDC blamed a lackluster Windows 8 launch, a sluggish economy and the growing demand for mobile devices over PCs for the dismal sales.
While those sinking sales certainly aren't helping Intel, the semiconductor maker has found itself in a better position than many PC makers, said Andy Ng, analyst at Morningstar.
"If you look at Intel over the years, it has definitely done better than the numbers at IDC and Gartner and other PC sales numbers would suggest," he told the E-Commerce Times.
That's partly because Intel has capitalized on the growing presence of the cloud in the tech industry, said Ng.
"A simple answer as to what Intel is doing right is their data server business," he added. "Even though PC sales might be soft, over the long run the server business is going to be Intel's biggest growth driver. With more and more smartphones and tablets, you really have to build up the cloud, and that drives the demand for server chips. That's going to be their business."
Business with mobile chips is less of a guarantee, said Jim Turley, founder and principal analyst at Silicon Insider. With most smartphones and tablets on their second or third generation of products, it might be too late for Intel to grab a solid lead in designing or manufacturing chips for some of the more mainstream mobile devices.
"There's very little incentive for any of those mobile device makers to switch from ARM-based chips to Intel chips," he told the E-Commerce Times. "Even if Intel's upcoming chips were just as good as ARM's — and that's a big if — being just as good isn't good enough to switch."
The company does have upcoming mobile chips that might fit better into hybrid products and high-end laptops geared towards enterprise users. Those products are gaining more traction in the market, said Ng.
"Intel has a few chips with a very aggressive chip performance and power performance per watt — where they can power all-day battery life and fit well into sleeker form factors," he noted. "There is a convergence between tablets and notebooks starting, so Intel has some opportunities in that area with the more high-end tablets and emerging form factors that really act more like a PC."
Going Forward With New CEO
While Intel faces ongoing challenges in the market, it is also searching for a new company leader. Current CEO Paul Otellini, who has been in charge since 2005, will step down in about a month.
The company did not comment during the earnings shareholder call about who might replace Otellini, but is expected to make an announcement in time for the annual shareholder meeting set for May 16.
Intel has every reason to look outside the company for an executive that might have experience navigating the mobile device world, Ng said. Intel's culture is an insular one, though, with several managers who have been at the company for awhile, so it wouldn't be surprising if the chip maker looked within for Otellini's successor.
"An external candidate wouldn't have much experience with Intel's huge competitive advantage in the market, which at the end of the day is that they're one of the only companies that both designs and manufactures chips," he pointed out. "An outside might not understand both sides of that and the unique culture it creates at Intel."
Understanding that competitive advantage is crucial not just in the search for a CEO, but for helping the semiconductor giant remain relevant in a tough competitive landscape, said Turley.
"Intel can remain relevant and profitable by emphasizing its outstanding manufacturing capability," he said. "The company has some of the best chipmaking plants of any company in the world. So in the worst-case scenario, if Intel's own chips aren't popular, at least it can manufacture other companies' chips in its own fabs. If you can't beat 'em, supply 'em."