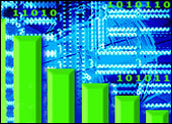 Personal computer sales are down across the industry as consumers turn toward newer devices such as smartphones and tablets and await the arrival of system upgrades like Windows 8, according to reports from Gartner and IDC.
PC sales for the second quarter in the U.S. were down between 6 and 11 percent compared to the same period last year, the firms reported. The drop marks the seventh consecutive quarter that laptop and desktop sales have fallen, said Gartner.
PC sales didn't take as big of a dive worldwide, falling just 0.1 percent compared to last year.
HP and Dell were the leaders in PCs shipped in the U.S., but both saw steep declines from a year earlier, with HP sales dipping between 12 and 13 percent and Dell experiencing a 9 percent loss. Both companies recently reported quarterly earnings that reflected those declines.
"These companies are worried, and you can see it in their results," David Daoud, research director at IDC, told the E-Commerce Times. "There's no doubt they're aware of the current state of PC sales, and they're going to have to adopt to the new class of products."
Adopting to Be On the Go
That new class of products includes smartphones and tablets, toward which consumers and enterprise customers are turning in greater numbers.
Some PC makers have teamed with Intel to offer so-called Ultrabooks. The devices are designed to offer the thin, mobile convenience of a tablet while featuring the productivity power of a laptop. Both reports indicate that Ultrabook devices are still in the early adopter phase and have not contributed a significant bump to overall PC sales.
Part of the reason for that is the high price point many such devices command, said Patrick Moorhead, president and principal analyst at Moor Insights & Strategy.
"As soon as Ultrabooks reach (US)$799, Ultrabooks will start to go mainstream," he told the E-Commerce Times. "I expect Ultrabooks to make a major impact in the fourth quarter of this year."
While the economy and the popularity of more mobile consumer devices both affect PC sales, consumers aren't totally turning away from the personal computer; rather, they're adding to it, Mikako Kitagawa, principal analyst at Gartner, told the E-Commerce Times.
"Tablets are stealing consumers' money," said Kitagawa. "This is not because consumers are replacing their PCs with tablets, but consumers are buying tablets as additional device."
That transition opens the door for innovation in the industry, said Daoud.
"That gives companies a lot of opportunity since it expands the market substantially," said Daoud. "There are a lot of headaches about how to get to that expansion, but there are lots of opportunities for consolidation and even for new companies with a great idea to come forward."
Waiting for Windows?
Part of that transition could come from new PCs that use Microsoft's newest operating system, Windows 8, which will launch this October. The new OS is expected to be radically different from Windows 7, particularly in its ability to run on tablet devices.
That gives vendors the opportunity to create a new generation of devices that could help drive PC sales, said Daoud.
"The adoption to Windows 8 will help companies such as HP and Dell to make new classes of products," he said. "Not just the clamshell laptops we're used to, but laptops that can switch to a tablet mode, and devices in all kinds of designs and forms."
Kitagawa also noted that PC shipment should go up after a Windows 8 launch due to pent-up demand on the supplier side, since many vendors will keep a low inventory before the launch.
Even with snazzy new devices, though, it remains to be seen whether Microsoft's new system is a hit. The OS was designed with mobile products in mind, but if consumers continue to choose an iPad or Android tablet over new hardware that runs Windows 8, some traditional PC companies have a lot to lose, said Moorhead.
"All companies in the PC ecosystem are concerned about the iPad and its impact on PC sales," said Moorhead. "Until we see wide distribution of Windows 8-based tablets and convertibles, it will be hard to call whether it will have an even larger impact. The companies who have the most to lose here are HP and Acer, as their businesses are heavily weighted with consumer business."