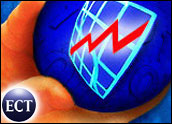 Current economic conditions, particularly high oil and gas prices and looming inflation, would anticipate a slowdown in major markets including personal computers, but yesterday IDC reported that the worldwide PC market continued to expand recently, posting 17 percent growth in the third quarter of this year.
The growth, typically tied to U.S. gains, was instead driven by gains in other regions, low prices and mobile computing, IDC said.
While the strength was somewhat surprising after indications of a peak in the market last year, IDC researchers warned that economic factors could drag the vibrant market down again.
"Slowing economic growth should eventually constrain PC demand, but for the moment, the outlook remains quite strong," said IDC Worldwide Quarterly PC Tracker director Loren Loverde in a statement.
Notebooks and School
IDC said a strong back-to-school season helped boost sales of mid-tier vendors, including Apple, Gateway and others that achieved growth in the U.S. and Europe. The impact of Hurricane Katrina probably had some negative effect on the last month of the quarter, but the brunt of the storm's impact would more likely affect fourth quarter numbers in North America, IDC said.
Although some slowing was expected in Japan, its commercial PC market remained strong while the island nation's consumer market continued to improve. In China, rising oil prices and economic control measures did not slow PC shipments, which were also driven by low prices and laptops.
"We continue to see remarkable growth in the PC market and relative independence from broader economic trends," Loverde said.
Worldwide Mobility
IDC senior analyst Richard Shim told the E-Commerce Times that the growth of portable computers continued a steady climb thanks to better performance and lower prices. Shim said that, while desktops still dominate because of their price advantage, notebooks should account for the majority of computers shipped within the next few years.
Shim also highlighted the fact that the more mature, U.S. market did not drive growth as much as other regions, where PC shipments rose.
"In the past, it was generally the U.S. that drove growth, with Japan and Western Europe, too," he said. "This time around was different. It's those other markets that are picking up."
Strength and Competition
Within the United States, Shim said, mid-tier vendors Apple and Gateway grew their shipments at "impressive rates," while the top two contenders, Dell and Hewlett-Packard, continued to battle for supremacy.
"It shows there's still room to maneuver and make some money," Shim said, describing Apple's performance as "resilient."
The analyst, who credited iPod sales for driving Apple computer traction, indicated that the competition is good news for consumers, who can expect better performance and prices to continue.
"When there's more growth, there's more competition," Shim said. "We see that happening."
What Goes Up
However, while the PC market was able to dodge a potential drop brought about by high oil prices and other economic conditions, those factors may be catching up soon, Shim warned.
The analyst explained that after a bad year in 2002, the market had picked up in 2003 and achieved good growth last year, which many thought would be the peak of growth.
"2005 has been even stronger," he said. "This suggests that at some point all this amazing growth has to slow down. If oil prices stay the same or go up, and inflation kicks in, that might put a damper on this growth."