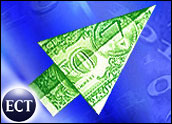 Online payment service PayPal announced Tuesday that it has closed on a US$90 million round of equity financing and now plans to work with its partners to expand its services internationally.
The Series D investment round, which closed on February 16th, included reputable banks from around the world, such as Spanish bank Bankinter, Providian Financial and French bank Credit Agricole.
"In light of current economic and private capital market conditions, this is a testament to the value of the PayPal service and to the efforts of the PayPal team," said Peter Thiel, founder and chief executive officer of the Palo Alto, California-based company.
One reason that PayPal has attracted financing, when other dot-coms are coming up short, is because PayPal and competitors like eBay's BillPoint and Yahoo's Pay Direct offer an easy way for individuals to make payments to other individuals online.
Individual Touch
Making such payments is especially important to Web users in light of the rising popularity of online auctions.
"PayPal has become huge," Morningstar.com analyst David Kathman told the E-Commerce Times. "It looks like they are in pretty good shape."
A big reason for PayPal's success is that its service "makes it easier for people to accept credit cards," according to Kathman.
"People are used to using credit cards online," Kathman said.
Impressive Stats
Since its founding in 1999, PayPal has become one of the fastest growing online payment services. It currently boasts approximately 6.5 million customers and processes about 150,000 transactions — with a total value of $7 million — per day.
The company has attracted approximately $225 million in total equity financing from a variety of investors, including Singapore-based Temasek, JP Morgan's Lab Morgan, Idealab! Capital Partners and Goldman Sachs Group.
PayPal also announced last month that it was partnering with Providian Financial Corporation, which also took an equity stake in the company, to offer a co-branded credit card.
Growing Pains
Despite these successes, PayPal has had its share of growing pains.
In January, the company was slapped with an unsatisfactory rating by the Silicon Valley Better Business Bureau, as a result of a pattern of complaints alleging that accounts were opened without consumer consent and by third parties.
Other complaints received by the BBB about the company include claims that PayPal is too slow to respond to customer problems.
According to the BBB and PayPal, however, the online payment firm is making efforts to improve its customer service, and could win back a satisfactory rating if the BBB determines it has made necessary improvements.
Small is Big
In related news, another PayPal investor, Japan-based eBank, announced Tuesday that it has applied for a banking license and hopes to start operations in June.
"As an Internet bank focused on improving payments for businesses and consumers, eBank is pleased to partner with PayPal to help create a new, global payment system on the Internet," said eBank chief operating officer Take Wakayama.
Taiichi Matsuo, eBank's president, said in published reports that the new venture plans to specialize in the "settlement of small payments."