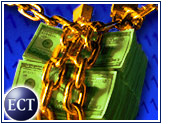 Further confirming that e-commerce is alive and well,the surge in online traffic triggered by the onset of the holiday season caused sporadic system outages over two days at Internet payment network PayPal.
The Palo Alto, California-based company has over four million users, andits payment service is particularly popular with those who buy and sellgoods through online auctions, including Web auction giant eBay.
PayPal's troubles reportedly began on Sunday evening, whenmany customers found themselves shut out from the site. Afterbecoming aware that its systems were being strained, PayPal undertooka software upgrade that lasted through Monday.
Customers Vent
Although the upgrade seems to have cooled the system meltdown, frustratedcustomers have flocked to Internet message boards this week to vent their complaints.
"I suggest you send an e-mail to PayPal telling them if they don't upgradetheir server they will be losing your business," one auction seller wroteon an eBay forum. "They have accepted too many new customers and their sitecannot handle the volume. If they realize people will be closing theiraccounts, they will fix the problem."
"I have a ton of auctions that I need to pay and can't do it," wrote anothercustomer. "I've used PayPal for almost a year now and never had thisproblem."
E-tail Shutdowns
Over the Thanksgiving weekend, which is the traditional start of the holiday retail rush, several of the Net's largest e-tailers reported technical glitches that prevented transactions from beingconducted.
Internet heavyweight Amazon.com, which had more than 1.3 million onlineusers visit the day after Thanksgiving, experienced a 30-minute serviceoutage that prevented shoppers from making purchases.Company executives attributed the outage to an internal computer "glitch"and said there was no way to estimate the effect of the downtime on sales.
In addition, BestBuy.com reportedly turned away some shoppers after visitorsflooded the site early Friday. Some consumers also reported experiencing troublegaining access to eToys.
Net grocer Webvan also experienced temporary outages during the week leadingup to the Thanksgiving holiday.
Slow but Steady
Last week, Internet performance measurement firm Keynote Systems released a report, basedon how fast pages loaded and other factors, showing that some major e-tailsites had been slowed by the increases in holiday traffic.
According to the data, Kmart's online arm BlueLight.com, EddieBauer.com andGap.com took twice as long to download as compared to the first week ofNovember.