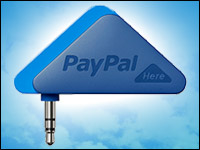 PayPal has introduced PayPal Here, a mobile payment product that is meant to continue its push into retailing's brick-and-mortar world, no matter the size of the retailer.
The global mobile payment system will allow small businesses to accept almost any form of payment, PayPal said. Businesses can accept payments by swiping cards with a fully encrypted thumb-sized card reader. They can also use a phone camera to scan and process cards and checks. Another option allows the retailer to invoice directly from the mobile app.
Included with the service are PayPal's fraud management system and full-time live customer support. Merchants will pay a flat rate of 2.7 percent for card swipes and PayPal payments. Sellers will be provided with a business debit card to access their funds, as well as a promotional 1 percent cash back on eligible purchases.
PayPal did not respond to our request for further details.
Beating Square
PayPal Here is entering a market space — mobile payment solutions for small retailers — that is already occupied by a number of vendors, including Intuit and Verifone. The most recognizable name, however, and likely PayPal Here's biggest competitor, is Square. The startup, backed by Twitter founder Jack Dorsey, has gained a significant amount of traction over the last few years.
Square is sold in retail stores including Apple, Best Buy and Target. It is now accepted in a range of venues, including some New York City taxicabs, under a recently introduced pilot project.
Moving Into Brick-and-Mortar Territory
However, it may be that PayPal sees Square as only one competitor — and not its main one at that. PayPal Here is part of a multipronged strategy to embed itself in real-world retailing under a concept it has dubbed "mobile wallet."
In a pilot project this spring, for example, PayPal will roll out its service in more than 2,000 Home Depot stores. Shoppers can access their PayPal accounts by entering their phone numbers and a PIN, or they can use a PayPal card.
In this arena, PayPal faces a much wider array of competitors, including Google with its Google Wallet app, and Isis, a joint venture of AT&T, T-Mobile and Verizon. It will also be competing with near-field communications systems, when they standard features on smartphones.
NFC-enabled smartphones alone will represent a commerce opportunity of US$800 billion by 2015, predicted Parks Associates in a report released last year.
Why Not PayPal?
With its brand-name recognition in the payment space, as well as its eBay parentage, PayPal has a good shot at establishing a decent market share for itself with its new payment options, said James Brehm, senior strategist atCompass Intelligence.
Certainly, it should be able to catch up with Square, he said.
"PayPal has a great ecosystem and a ton of members with traditional PayPal accounts. It also has access to a lot of resources," Brehm told the E-Commerce Times. "PayPal is a natural competitor in this space."
Small and Nimble vs. Old and Established
It may prove that being part of an established corporation is more of a disadvantage in an emerging space, Scott Testa, a marketing professor at Cabrini College, told the E-Commerce Times.
"PayPal, being affiliated with eBay, moved relatively slowly into this space," he said. "Square is a small, entrepreneurial company, and it may be that is what is needed to succeed in such a fragmented industry."