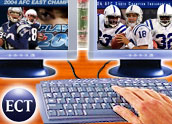 The New England Patriots NFL football team now has customer information from ticket reselling service StubHub. The team reportedly gained access to 13,000 records of people who purchased, sold or bid on Patriots tickets on the site after taking StubHub to court.
Massachusetts Superior Court Judge Allan van Gestel ruled that StubHub had to turn the information over to the Patriots. The decision was the result of a court case lobbed by the Patriots in an effort to crack down on season ticket holders who resell their tickets to other people. The Patriots have a policy against reselling tickets, and the team alleged that StubHub was encouraging its fans to violate the team's policies.
Massachusetts' Laws, Patriots' Rules
Massachusetts has a law against scalping tickets — ticket holders can only resell their tickets at a nominal US$2 over the face value of the ticket. Patriots season ticket holders would have been technically in violation of Massachusetts state law if they sold tickets via StubHub — or even a street corner — for anything more than $2 above face value. Massachusetts, however, isn't bringing legal action against StubHub or the company's customers. The court case was about StubHub letting its customers use its service to violate the Patriot's rules with its ticket-holding customers.
Current ticket prices on StubHub for the Patriots game against the Miami Dolphins on Sunday range from $94 to $1,278 each. Teams and sports fans often argue that reselling tickets allows individuals to hoard passes and jack up prices, and that any team attempting to curtail reselling is merely trying to keep prices affordable. The Patriots, however, asked for details surrounding not only sellers and buyers, but those who made bids as well. Their request seems a bit overzealous to the Center for Democracy and Technology.
"If they only asked for the names of sellers where the price was over the $2 ticket value, we would not have a concern," Ari Schwartz, the Center's deputy director, told the E-Commerce Times.
Plus, van Gestel granted the Patriots the ability to use the data with little oversight, other than not to make the details public.
Antiquated Laws?
StubHub would not comment directly on the case; however, it did address Massachusetts' law on reselling tickets.
"Massachusetts is actually very close to removing that regulation and changing their law like every other state has in the U.S., because there's only essentially six states that have a similar restriction as Massachusetts," Sean Pate, public relations director for StubHub, told the E-Commerce Times. "Those laws were created in the 1920s so they are dramatically outdated."
Even though the Massachusetts law isn't of concern in this case — it's about the Patriots' rules for ticket holders — anti-scalping laws have been biting the dust over the last few years. StubHub, which is owned by eBay, has been reaping the benefits.
"There is only a handful of states that govern and restrict ticket resale. It's legal to resell in every state," Pate said, noting that only a few even have laws that restrict the amount a ticket could be resold for.
Either way, regardless of anti-scalping laws, the customer data collected by StubHub as part of its business is now in the hands of the Patriots, who are widely expected to revoke tickets from their StubHub-selling season ticket holders.
The big question, then, is whether this kind of court case presents a problem for online consumers.
"It is becoming a more common problem. There has been some discussion of this issue in music downloading, although it may be harder to draw a clear line on what is legal and what is illegal in those cases," Schwartz notes. "The Patriots' case seems pretty clear to me — did the seller make more than $2 over face value? I can't recall a similar case that afforded this much latitude."
The Patriots were unavailable for comment at press time.