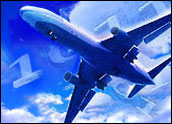 Overstock.com, which has already carved a niche in cyberspace for its dealings in the assets of dead dot-coms, threw its hat into the online travel market Tuesday.
The company said it has more than 6 million bargain airline tickets, for sale to destinations worldwide, that it obtained from an unidentified ticket consolidator.
Overstock.com said that it is also offering discounts of up to 65 percent on lodging and giving its Web customers a cash rebate between US$10 and $75 when they stay at their destination hotel within 30 days of booking the reservation.
The combined discount "guarantees the deepest savings for hotel reservations on the Internet, ranging from five-star luxury hotels and resorts to B&Bs and budget motels," the Salt Lake City, Utah-based company said.
"Considering that travel is a big-ticket expense for our customers, we struck a deal to give them the most competitive travel rates available on the Internet," Overstock.com chief executive officer Patrick Byrne said.
The Price is Right?
The E-Commerce Times found that some Overstock.com fares were more expensive than the competition.Byrne later clarified that Overstock.com would meet or beat the competition on direct flights, but that "if travelers were willing to have layovers, they may be able to get lower fares at other sites."
For instance, Overstock.com returned a price of $221.40 for a round-trip ticket from Chicago, Illinois to Orlando, Florida in March, cheaper than the $239.00 quoted by Travelocity.
However, the Overstock.com ticket costs more than the $195 returned by Hotwire.
Similarly, a check of fares between Chicago and Los Angeles returned fares of $189 for Hotwire, $215 for Travelocity and $226.05 for Overstock.com.
The hotel prices were also not the cheapest available. Overstock.com quoted a price of $399.95 per night for the Hotel Nikko in San Francisco, but Travelocity offered a room in the same hotel at $269.95.
Over There
Still, Overstock.com did appear to beat the competition when it came to international fares. Overstock.com returned a fare of $313.50 for a round-trip ticket from Chicago to London. Hotwire's lowest price for a similar flight was $414 and Travelocity came in at $454.90.
Byrne added that Overstock had focused on offering discounts on international fares and that "fares for domestic flights will have to be improved."
The fares quoted by Travelocity and Hotwire include all applicable taxes and fees, but Overstock.com's quotes do not.
Travelocity and Overstock.com tell customers exactly when they are flying and on what airline before booking the flight, but Hotwire does not reveal the airline or flight times until after the customer books the flight.
The Grateful Dead
Overstock.com made its name buying and selling manufacturers' castoff inventory, as well as the assets of dead dot-coms.
Overstock.com's competition in the travel market includes not only Travelocity and Hotwire, but also "name-your-price" e-tailer Priceline and the airlines' own sites.
To add even more pressure, a report issued in April by investment bank Bear Stearns predicted that over the next few years, 80 percent of all travel sites would fold.
However, there are significant rewards for travel sites that persevere. A report by Forrester Research last year predicted that the online travel market would grow to $29 billion in 2003.