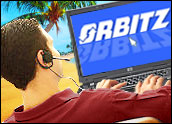 For this week's installment in the E-Commerce Times' series ontravel-planning Web sites, I took a spin around Orbitz, completing my tour of the top three aggregators.
Thus far, my biggest complaint about travel sites in general has been overcrowded user interfaces that waste space with self promotion. As I looked at the Orbitz home page, I wondered what my problem was — Orbitz presented a simple two-column layout. Still, the site design called to mind those "parked domain" Web sites that are used to seed ads or random content but have no real purpose.
I even had to search for the Orbitz brand name to reassure myself that, yes, this was a legitimate, commercial operation.
Deals and Tips
Several of the features could stand additional development on the back end.
For instance, on its "Never Miss a Deal" screen, I was invited to give my email address to receive sales and coupons — but there were no inquiries about my preferred travel modes or destinations.
Perhaps the customization would come after the email account info was provided. I typed in my junk email address, but I was no wiser as to this field's purpose. I would begin receiving exclusive deals, tips and promotions at [email protected], Orbitz informed me, when I was done.
Price Guarantee
Continuing down the column, I saw the Orbitz price guarantee — a promise that I wouldn't pay a higher price elsewhere. I greeted it with a healthy dose of skepticism.
Let me be clear: I don't mean to single out Orbitz as the target of my cynicism. Most travel sites seem to give themselves plenty of wiggle room with these guarantees. For instance, they typically require that the competing and better offer must be reported within 24 hours of making a ticket purchase.
Orbitz didn't pull that stunt, though. The way its guarantee worked, according to the Web site, was that the site would automatically track all purchases, and if another Orbitz customer subsequently booked the same flight or hotel at a lower price — on Orbitz — I would get a refund for the difference. That's not a bad deal for customers, who don't even have to do the legwork to see if a lower deal is available.
Here's another promise Orbitz made, one that intrigued me: The hotel price listed would be the total price I would pay up front. I decided it was time to indulge in booking my dream vacation — that is, a trip that wouldn't involve visiting my far flung family or friends. That is, a trip where I would actually stay in a hotel for fun, not business.
Top 10 Destinations
A new feature on the site offered a good place to start. It was a list of Orbitz's top 10 fall destination hot spots with links to special deals. Chicago, Miami and New York didn't appeal to me at all; Cancun however, did.
I clicked through to see my options. Then I blinked. I was presented with several appealing possibilities — and a myriad of booking choices that quickly became confusing. I found a five-star resort that seemed reasonably priced with a US$135 "average" nightly rate. (I guessed the total upfront price promise would kick in later).
To give Orbitz the credit it's due, there was ample information — and plenty of photos — about the resort, the La Amada Beach & Spa. The site gave me the option of a three-night hotel and flight package for $499 per person, or a five-night flight and hotel package for $748 per person. Opting for five nights, I clicked through to make my purchase.
It turned out the $748 price was from a Dallas origination point, approximately half a country away from where I live. I clicked on the Baltimore Washington International airport as my starting point and watched the price go up. With an American Airlines flight, I could get the package for $831 per person, although Orbitz informed me I was saving $140 with its special offer.
My flight selected, I was then made aware of the fact that La Amada was expecting me to bring company — someone who would also pony up $831. The final bill would be around $1,662 — assuming I (we) didn't buy any of the myriad of services that lay in wait before final booking can occur. Deflated, I navigated back to the start page to begin again.
Starting Over
Opting for the featured specials section, I clicked on Hawaii. I was presented with several choices of hotels that were offering savings and specials. I picked the Sheraton Waikiki: Total price for four nights — and it did seem to be the final price — came to $760.15 in the four-star hotel's Oceanfront Escape section.
One Continental ticket later, I was $656 poorer. Orbitz, like Expedia, made a point of highlighting the final price for the flight as I was booking it, a touch I do appreciate.
I tried booking the same trip as a package and saved $100.
Whether or not that was a good price, I can't say, but after navigating the — let's face it — disorganized Orbitz site, I was not in a mood to comparison shop elsewhere.
The site did offer some value-add touches I appreciated — for example, a click-to-chat customer service function, which I haven't noticed on other sites.
There was also a customer service email option, with a statement that Orbitz would do its best to get back to me within three hours. Very few sites offer time frames for responses.
Bottom line: I booked the trip I wanted at what seemed to be a good price. Getting to that point, though, felt like more trouble than it was worth.