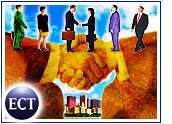 Saying their combined assets can drive down the cost of deploying real-time collaboration software, Sun Microsystems and Oracle have announced plans to work together to spread the word about the benefits of their alternatives to Microsoft's dominant Office suite.
Oracle said the push will include joint sales training and telemarketing campaigns on three continents, timed to support its Collaboration Suite Release 2, which hit the market late last week. The companies left no doubt that they are targeting Microsoft.
Taking Aim
Sun vice president Stuart Wells said the effort to push the company's StarOffice suite is aimed at making it easier for enterprises "to cut their tether to Microsoft's pricing schemes and frequent security breaches." He added that the Oracle and Sun solutions help "solve major issues for customers using enterprise messaging applications, especially cost, security and complexity."
Meta Group analyst Daniel Schorr said Sun and Oracle both want to win customers away from Microsoft and stop Microsoft from extending its desktop dominance to more enterprise-level applications.
"They've both got great band recognition in the enterprise and are trying to be the alternative in the software space," Schorr told the E-Commerce Times. "They've taken aim at pricing because they know it's something enterprises complain about."
Collaboration Celebration
In a bid to extend the collaboration push beyond instant messaging, Oracle also has upgraded its Web conference software and changed the way it prices the product. The new version automates scheduling and notification functions, according to the company.
Oracle said the new version of the suite will offer existing applications, including e-mail, calendar and voice mail in a more secure, more scalable Unix environment. The company also claimed its product is far simpler to administer than those made by its competitors, saying it requires just one administrator whereas Windows installations need up to five.
However, Microsoft has taken aim at the real-time collaborative marketplace as well, saying last week during a day-long meeting with analysts that it had accelerated its efforts to integrate the Web-meeting software it bought when it acquired Placeware.
Playing Hard To Get
Meanwhile, Oracle not only is refusing to back down from its hostile takeover bid for PeopleSoft, but has put even more of its money where its mouth is, saying it will pump another US$1 billion into the deal, bumping the total price tag to $7.5 billion.
Analysts say Oracle's bid faces a much higher hurdle now that PeopleSoft has all but tied up its own purchase of J.D. Edwards, a deal that many believe significantly boosts PeopleSoft's long-term prospects.
Although the offer price for PeopleSoft shares remains unchanged at $19.50, Oracle said in a filing with the U.S. Securities and Exchange Commission (SEC) that completion of the J.D. Edwards merger boosted the number of shares Oracle would have to accumulate to close the deal.