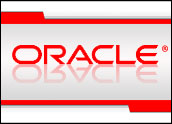 Oracle's shares fell 7.2 percent Thursday on news that the company did not sell as many new licenses in its third quarter as expected. The stock closed at US$19.43 per share, down from $20.94 a day earlier.
Sales of new software in Q3 registered $1.6 billion, a 16 percent increase from the same quarter last year. Analysts had been expecting an increase of 20 percent or more.
Oracle also reported a 30 percent increase in its quarterly profit and a 21 percent increase in revenue, with net income registering $1.3 billion on revenue of $5.3 billion. In these areas, Oracle met the Street's expectations.
Oracle has built itself a financial cushion with its aggressive acquisition strategy over the last several years: Along with new customers, it has also accumulated a steady stream of maintenance revenue.
Key Indicator
However, it is growth in new licenses that most analysts look to when accessing an IT vendor's long term health and stability.
The slowdown in license growth is a reflection of companies' mounting concerns about the U.S. economy in general and the turmoil in the financial markets in particular, Oracle CFO Safra Catz told listeners on a conference call.
"Customers got a little more cautious at the end of the quarter, given what was going on in the financial markets," she stated.
Missing the Point
Wall Street may be missing a subtle — yet crucial — metric in Oracle's financials that suggests the company may be healthier than it appears, Rebecca Wettemann, vice president of Nucleus Research, told the E-Commerce Times.
"The Wall Street analysts are focused on new application software revenue — but that is not the number they should be watching," she opined.
New software licenses are going to fall for all the enterprise vendors as concern about the "R" word continues to grow, said Wettemann. "The big enterprise deals simple don't happen in this economy."
Deals that do close, though, are smaller, more nimble Software as a Service deployments, she continued. Oracle's OnDemand offerings should bolster growth.
More to the point, though, Wettemann said, is the fact that Oracle supplies database and middleware solutions to more than half of the top SaaS vendors. She noted that the company's database and middleware sales for Q3 were up 20 percent compared to the same quarter last year.
Some of that can be accounted for by customers migrating to Oracle after their vendors were acquired. Still, Wettemann expects to see revenues in this category remain robust, with more companies adopting Oracle's back-end infrastructure as they shift to on-demand services.