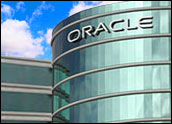 Oracle reported a 42 percent increase in Q3 fiscal 2006 profits, the first quarter following the completion of its acquisition of Siebel Systems.
New application license revenues were up 77 percent, compared to an anemic 5 percent rate of growth for database and middleware new license revenues.
Oracle's database license revenue, in particular, continued to disappoint Wall Street analysts, who had expected 9 percent growth. It was the third consecutive quarter in which Oracle underperformed expectations in this category.
During a conference call following the release, Oracle chose to highlight its applications growth, particularly in Europe. It noted that new license revenue grew in excess of 100 percent year-over-year in that market. "It's very satisfying to be doing well right in SAP's backyard," said President Charles Phillips.
Applications Driving Growth
Although shareholders appeared disappointed — the company's stock declined some 4.3 percent after earnings were announced — Oracle's applications acquisition strategy of the last few years appears to be paying off.
For instance, Siebel, which has only been part of Oracle for about a month, delivered a higher-than-expected US$22 million in sales for that period.
During a conference call, Phillips noted that Siebel "pushed us over the top in many accounts."
Such transactions, though, are penny ante compared to Oracle's overall financials, Pat Walravens, an analyst with JMP Securities told the E-Commerce Times.
Siebel's earnings "contributed probably half a percent to Oracle's revenues," he said. Also, performance at PeopleSoft, Retek and JD Edwards had been better prior to their acquisition by Oracle, he pointed out in a research note.
Some of this can be attributed to the inevitable difficulties of integrating such large companies in a relatively short period of time.
Maintenance as an Indicator
A more positive indicator, Walravens said, was its 50 percent increase in maintenance revenues compared with the same period a year ago. "It is becoming a recurring model for Oracle."
That is good news for the company, which set out on its acquisition spree in large part to build out its customer base. Especially after the long war with PeopleSoft, there were concerns that customers would flee Oracle en masse.
Search, SaaS
Meanwhile, Oracle is gearing up to expand into other areas outside of its traditional database market. The company recently rolled out a stand alone corporate search application, for example.
Also, with the Siebel acquisition now closed, it intends to leverage its Software as a Service (SaaS) offering.
"These two markets are red hot and will be engines for growth for Oracle and the entire software industry for years to come," said CEO Larry Ellison.