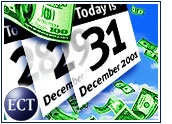 Serving up stale product hurts e-tailers andcommercial Web sites at least as much as it doesrestaurateurs.
Outdated product specifications, merchandisingmessages or other online content are surefirerecipes for customer alienation. But many Internetcompanies cannot afford the resources needed to constantlypurge their sites of past-due elements.
"The task of updating content is high work and smallreward," Giga Information Group analyst Andrew Bartelstold the E-Commerce Times. "So, the volume ofout-of-date online content will grow out of momentum."
Indeed, as a percentage of the ever-expanding mass of Internet content, outdated online material is on the rise, analysts said. Web site operators who stay on top of freshness, however,can avoid potentially costly customer run-ins.
Promotional Problems
Marketing content and other information that supportsproduct data present the steepest challenge for e-tailsite managers, according to analysts.
"Retailers' product specifications are largelyevergreen," Jupiter Media Metrix analyst Matthew Berktold the E-Commerce Times. "But they have a secondtier of content that is important to keep fresh."
That said, some retailers outsource fulfillmentoperations and rely on the inventories of third-partysuppliers, Berk said. In such cases, in which real-timeintegration with suppliers can be problematic,customers can encounter outdated product inventories.
Friendly Florist
At New York-based 1-800-Flowers.com,a dedicated content team runs multiple promotionsthroughout the site and makes frequent content changesto maximize sales.
"We monitor sales four times a day and constantly swappromotions in and out depending on sales andavailability," 1-800-Flowers.com director of Webmarketing and development Robert Wilson told theE-Commerce Times. "Some promotions may stay up forjust an hour."
Size Matters
Even if they do not deal in perishable goods, mosthighly trafficked sites like 1-800-Flowers.com staycurrent. But smaller niche sites with low sales anduser volume often age untended, analysts said.
"On some specialist sites, where there is not a lot ofbusiness, the work-reward ratio [for updating content]is out of balance," Bartels noted.
This is less of a problem on commercial sites than itis on information-centric sites, he added.
For instance, the U.S. government's e-commerce policyWeb site sports a home page showing year-oldbriefings.
Recent staff reductions in the content and technology arenashave made it especially difficult to invest in sitemaintenance, according to Berk.
Age Tracking
To manage content shelf life, analysts advised siteoperators to invest in content management systems andanalytics packages that report on user traffic patterns.
"It is important to look at user behavior on a regularbasis and pick up places where users are droppingoff," Yankee Group analyst Lisa Melsted told theE-Commerce Times.
For its part, 1-800-Flowers.com uses analytic toolsfrom NetGenesisand a proprietary content management system tomaintain content currency and relevancy.
"The biggest challenge is identifying what contenttasks are most labor-intensive and determining thebest way to automate them," Wilson said.
Content Categories
Whether online content management is automatedor manual, e-tailers should track how promotional and other supportive content correlates with products, said analysts.
"E-tailers should tag and categorize content in thesame way they do with their products," Berk said."This allows them to reuse content and use it as amerchandising tool."
In most online cataloging environments, he added,customers will grow impatient quickly if promotionalcontent — or "soft content" — is outdated.
Rotten Links
Unfortunately, even if e-tailers regularly freshen their own site's content, links to stagnant or nonexistentsites may still lurk on the Web's search engines.
"Search engines are where you find the most cases of'link rot,'" Melsted said.
The burden rests on individual Internet companies tostay in touch with search engines and minimizeout-of-date links, analysts agreed.