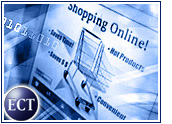 Remember the phrase, "Content is king"?
Content can mean many things, but I'm referring to information and functionality that directly aids online shoppers in making purchases, like selection guides, comparison charts and how-tos. Let's call it "commerce content."
As an online shopper and a former dot-commer, I think most sites underachieve in commerce content. Even with the tech boom behind us, content still buoys e-commerce and remains — dare I say — king.
Questioning Content
Most shoppers need help. Offline, we usually buy products like clothing, computers and travel services after ample Q&A with the vendor.
Reproducing these exchanges online is at the crux of commerce content. Without it, we're left guessing sizes, missing deals and wasting time. Or worse — e-tailers take note — we don't buy.
Most e-tailers provide content that is either too generic to be helpful, geared toward the product when it should be geared toward the customer, requires too much site navigation to find, or is too much of an afterthought rather than a pre-sale catalyst.
Promised Land
Let's look at a best-case scenario. Clothing retailer Lands' End (NYSE: LE) has invested dearly in content, and it shows.
Looking for a business casual wardrobe to replace outdated dot-com garb? Lands' End provides "My Personal Shopper," which collects subjective data from us — like "I prefer outfit A slightly more than outfit B" — and recommends clothing based on those preferences.
The information is personalized to our idiosyncrasies, driven by our real-life answers, and resolves pre-sale jitters. Commerce content 101 — the likes of which we rarely encounter on the Web.
Missing Link
Where most e-tail sites, including Lands' End, could improve is in the integration of decision-enabling content with the purchasing process. The Lands' End site includes several product guides and information pages, but those pages are not directly tied to particular catalog entries in many cases.
For instance, a simple pop-up link from a winter jacket that has a 10-degree temperature rating to the Lands' End's temperature rating guide might help close a sale. Or, how about a way to get from the catalog to the glossary, where the difference between hydrophilic and hydrophobic is aptly explained?
Sales to the Wind
But good commerce content isn't just a sticky add-on feature; it can actually drive sales. In fact, between November 2000 and April 2001, Lands' End's online conversion rates were 26 percent higher and its average order value was 13 percent higher when its virtual model was used during a site visit.
Two-thirds of consumers who do not buy online opt out because they want to see items before they buy them, according to Forrester Research. That's when a virtual model — a "cyber-you" that mimics your body type, hair color, skin tone and so forth — comes in handy.
So, if you're wondering if a Lands' End shirt with a pointed collar will make your neck look too long, try it on, online!
Cows Don't Wow
Most commerce content isn't nearly this personalized or as integrated with the buying process.
The Web site of computer retailer Gateway (NYSE: GTW) offers buying guides, but they are buried deep within an "info zone," and consist mainly of static FAQ pages. There are no links between product descriptions and the buying guides.
We miss out on information that might give us the confidence to buy, and Gateway misses out on countless cross-sell and up-sell opportunities. The risk? No sale.
Contrast Gateway's offering with the Compaq (NYSE: CPQ) "selection assistant." The online wizard poses questions to shoppers like where, how and when will they use their computer, and then recommends units accordingly.
I'll take content over cow-print, thank you.
Flying Blind
Online travel site Orbitz is another commerce content culprit. It offers weather forecasts, travel tips and airport intelligence, but they are tucked away under "traveler care" and "travel watch."
While researching flights from Los Angeles to Boston, wouldn't it be helpful to know that Boston is shrouded in fog, private vehicles are prohibited in LAX's central terminal, and there are smart ways to comply with the one carry-on regulation? You'll be in the know at Orbitz — as long as you're not in a hurry.
The point is, skillfully created and presented commerce content can win customers over. Online shoppers, take the time to look for it if it's not obvious. Better yet — e-tailers, take the time to build it into the core of your offering.
What do you think? Let's talk about it.
---
Note:
The opinions expressed by our columnists are their own and do not necessarily reflect the views of the E-Commerce Times or its management.
---