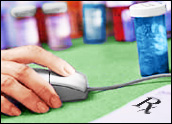 In theory, Internet pharmacies have the potential to offer consumers considerable benefits over their brick-and-mortar counterparts. Convenience and lower prices, in particular, are two of the big ones proponents frequently cite.
Unfortunately, the current reality reveals a very different potential. "Rogue Internet pharmacies," as they're called, have sprung up all over the Net, and they can lead unsuspecting consumers down the proverbial garden path. Illegal purchases and higher prices are just the beginning on this pharmaceutical expedition; life-threatening counterfeits can be the end.
"Buying drugs online is risky," Ilisa Bernstein, director of pharmacy affairs for the Food and Drug Administration (FDA), told the E-Commerce Times.
"There are a number of legitimate pharmacies that are licensed by state boards and that follow the rules," Bernstein said. "Unfortunately, there are many, many more online sellers that we don't even call online pharmacies — they're drug sellers out to make a dollar, and consumers have no idea what they're getting."
Oh Canada
Internet pharmacies arose over the past decade or so, and much of their appeal has stemmed from promises of lower costs. Fed up with the high prices of prescription drugs, many American consumers have gone online in search of savings.
Frequently that search takes them to sites that purport to offer Canadian drugs at a discount over those sold in the United States.
"Everyone assumes Canada's drugs are safe," Kristina Lunner, senior director of government affairs for the American Pharmaceutical Association (APhA), told the E-Commerce Times. "But there are international pharmacies based in Canada that set up shop specifically for U.S. consumers. They call their products Canadian drugs, but frequently they are counterfeit — subpotent, superpotent or with no active ingredients at all."
Deceptive Labeling
A nuance in Canadian law allows foreign companies to import drugs from overseas into Canada and sell them from there to the United States, even though they're prohibited from selling them within Canada itself. It's known as "transshipment," and the result is that while the drugs may be sold from Canada, they are by no means the same drugs Canadians receive, Lunner stressed.
To wit: A 2005 FDA search at major U.S. airports found that 85 percent of arriving drugs labeled "Canadian" actually came from 27 other countries around the globe. Many were counterfeit as well.
Whether their prices are any lower is also highly questionable. "Over half the packages we've looked at had generics available in the United States," Bernstein said. "Of those, close to half could have been purchased through a $4 prescription program. That leads us to believe people are not buying online to save money so much as to get drugs without a prescription."
Slippery Requirements
Therein may lie the heart of the matter.
Internet pharmacies operating in the United States must follow many rules in selling prescription drugs online. First and foremost, they must require a legitimate doctor's prescription; other regulations include state dispensing laws.
Yet a quick Google search on the term "no prescription" makes it all too apparent that there are countless sites out there very willing to break those rules. Some ask only that a prescription be faxed, leaving the door wide open for forgeries and reuse; others claim to have their own doctors to generate prescriptions for consumers who fill out a short "medical" questionnaire. The very worst require only a credit card number; no prescription needed.
"These sites are very slick, with pictures of handsome doctors smiling and writing prescriptions," David Festinger, senior scientist at the Treatment Research Institute, told the E-Commerce Times.
However, in fact, their profits depend on convincing U.S. consumers to break the law.
The Law
"Pharmacy in general is regulated at the state level, but the Net doesn't have geographic boundaries," APhA's Lunner explained. "That makes state control difficult."
Under almost all circumstances, the Federal Food, Drug and Cosmetic Act prohibits individuals from importing into the United States any prescription drug that has not been approved for sale by the FDA. The only rare exceptions are cases in which a patient has a life-threatening condition, and his or her physician has prescribed a foreign medication not available in the United States; a personal importation policy then allows the patient to import a 90-day supply, the FDA's Bernstein said.
In cases where a U.S. manufacturer makes an FDA-approved prescription drug and sends it abroad, the law prohibits anyone other than the original manufacturer from importing the drug back into the United States.
The bottom line: In virtually all instances, it is against the law for U.S. citizens to import prescription drugs into the United States.
"There's a misconception out there that because so many millions of packages are coming in, it must be OK," Bernstein said. "We don't have the resources to stop everything, but it's still not legal."
Online Rx, Part 2: Bad Medicine