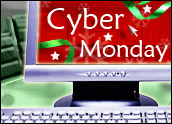 More than 131 million shoppers — or 54.8 percent of the shopping population — are planning to hit the online deals this Cyber Monday.
That is one finding of a National Retail Federation survey conducted by Prosper Insights & Analytics over the weekend. For comparison, the corresponding figure from last year's survey was 129 million.
"Despite record-breaking online shopping Thanksgiving Day and Black Friday, holiday shoppers aren't done yet; we expect Cyber Monday to be bigger than ever," said NRF President and CEO Matthew Shay.
The Mobile Factor
Cyber Monday was born when consumers who didn't have access to high-speed Internet at their homes returned to work and used their PCs there to shop for deals online.
Today, of course, many consumers have high-speed Internet at home — not to mention smartphones and tablets from which they purchase goods as well.
In fact, 24.8 million respondents, or 18.9 percent, plan to use mobile devices to shop on Monday, representing a 22 percent increase from the 20.4 million who did so last year.
Not All Is Well
Despite these numbers — or perhaps because of them — not all went well with online sales over the holiday weekend, according to Compuware APM, and shoppers will likely encounter more frustration today.
The average page-load time on Thanksgiving Day was more than 10 seconds for mobile websites across the Top 50 U.S. retailers, Compuware APM found. In addition, it took more than 18 seconds on average to access the home page, conduct a search, view a product description, add items to the shopping cart and then review the order.
In short, retailers weren't as prepared as they could have been for the expected onslaught starting on Thanksgiving — and that will likely continue through Cyber Monday, Steven Dykstra, product manager of Compuware APM's Benchmarks division, told the E-Commerce Times.
'They Stick to Their Game Plan'
"Retailers tend to go on lock-down — they get their sites ready ahead of time, and unless something catastrophic happens, they stick to their game plan," Dykstra explained.
In other words, there will be no tweaking of sites for Cyber Monday, he said.
The reason for the slower-than-they-should-have-been speeds, he continued, is the growing complexity of e-commerce, especially when mobile is added to the mix.
"Some of the worst-performing mobile sites required 60 different hosts — for ads and social networking and so on — to bring up a single page," Dykstra noted. Too many retailers "are depending on too many outside others' data centers to serve up content, and that slows the site down."
Start With a Bang
Retailers may still be able to relax, however.
"Online sales during Black Friday were up nearly 20 percent," noted Eric Fischgrund, director of marketing and digital media at 5W Public Relations, referring to an IBM Digital Analytics Benchmark study that surveyed 800 online retailers and also found overall online sales from Thanksgiving through Sunday were up 14.5 percent this year over the same period last year.
Given that early enthusiasm, Fischgrund added, few believe that slower sites will stymie shoppers on Cyber Monday, either.