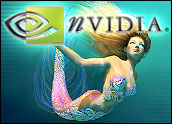 Nvidia this week released second-quarter earnings that its CEO deemed "disappointing." However, future projections of growth, as well as an increase to its stock buyback program, boosted its stock price by about 10 percent on Wednesday as Wall Street decided to focus on the firm's future prospects.
In Q2, which ended July 27, revenue sank to US$892.7 million, compared to $935.3 million for the second quarter of the previous year, a decrease of 5 percent. The company realized a net loss of $120.9 million, or a loss of 22 cents per share. Net income for the six months ended July 27, 2008 was $55.9 million, or 9 cents per share, compared to $305 million, or 51 cents per share, for the same time period in 2007. The company also took a one-time $196 million charge because of faulty graphics processing units (GPUs) found in some laptops.
Jen-Hsun Huang, president and CEO of the company, called its Q2 financial performance disappointing, offering as explanation a global desktop PC market that had weakened during the quarter — as well as the company's miscalculation of its competitive price position.
Future Outlook
Bright spots in the company's performance, he pointed out, were the notebook GPU, MCP (media communications processor) and Professional Solutions groups, which grew a combined 27 percent year-over-year.
"Though we approach the near-term with caution, we remain very optimistic about the expanding universe of visual computing and the exciting growth opportunities made possible by CUDA (Compute Unified Device Architecture), our general purpose parallel computing architecture," he said.
Nvidia also announced an increase of $1 billion to its stock repurchase program. This will allow it to purchase up to $2.7 billion of its common stock. It was this move, plus Huang's comment on the earnings call that sales are expected to grow next quarter, that sent its stock up Wednesday despite the disappointing earnings.
The company's stock closed at $12.26.
Rising Threats
A dominant provider in the high-end video card GPU space, Nvidia had a solid market position until recently, Dan Olds, an analyst at Gabriel Consulting Group, told the E-Commerce Times.
Competition is poised to erode that position, he said, pointing to AMD's ATI division, and, even though it won't released until 2010, Intel's Larabee graphic chip. Intel' first iteration may not be exactly on target, Olds said, "but Intel has the resources to keep at it until they get it right. So this will be a strong competitor for Nvidia in the future."
Nvidia is facing other headwinds as well, Charles King, principal at Pund-IT, told the E-Commerce Times.
"Computer graphics is the type of product that is extremely sensitive to other issues going on in the economy. Someone whose credit is overextended and is wondering if he will be able to stay in his house is unlikely to be putting more money into a computer," he said. Businesses also tend to hold back on new investments, and hardware is particularly easy to put off upgrading without diminishing performance too much, he added.
Which Story?
On the positive side, Olds noted, "we believe market demand for these processors will continue to grow as they are used in supercomputers and high-end business computers.
"We are just in the infancy of seeing those processors be used that way, but we estimate growth will at least double in next three to five years — and that is a conservative estimate," Olds said.
The question is, which will be the dominant force shaping Nvidia's trajectory — growing competitors or the growing market? Olds, for one, thinks it will be a wash for the company. Its best prospect, he said, is to concentrate on execution.
"Nvidia has done a good job of executing in the past, which is why they pretty much owned this market segment up until now. But this niche has become important enough and profitable enough to attract the attention of someone like Intel."