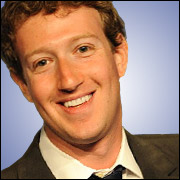 Facebook CEO Mark Zuckerberg did not pull any punches Wednesday in describing the U.S. government's communications approach to revelations that the National Security Agency has been accessing digital conversations around the world — and using tech companies such as Facebook in the process.
"Frankly, I think the government blew it," Zuckerberg told the audience at the TechCrunch Disrupt conference held this week in San Francisco.
Zuckerberg may be excused for his point of view regarding the NSA. It's clear the U.S. government didn't do companies such as Google, Facebook and Microsoft any favors by assuring the world that it didn't spy on "U.S. citizens." After it made that statement, it was immediately assumed that citizens of other countries were fair game for the NSA. For companies with a global customer base, this was a horrifying turn of events.
"Wonderful," said Zuckerberg about that first, tone-deaf communication approach by the NSA. "That's really helpful for companies trying to work with people around the world. Thanks for going out there and being clear."
Facebook did not respond to our request to comment for this story.
Industrywide Condemnation
Zuckerberg hardly stands alone in his condemnation of the NSA's PR attempts. Large companies with the most to lose in the U.S. tech community — Google, Facebook, Yahoo and Microsoft — have all been heavily lobbying to get permission to reveal more about what they do and do not provide the government. Unfortunately for them, national security laws limit what they can say publicly.
Zuckerberg's interest in U.S. policy clearly goes beyond this one subject, however. Increasingly, he is getting involved at one level or another in other policy areas.
Immigration has become a hobbyhorse for Zuckerberg, for instance, as has education — two themes he also touched on during the onstage Q&A at Disrupt.
"The tech community cares about changing the world," he said. "We made clear this is not just about the high-skilled. We're going to push for comprehensive immigration reform."
Zuckerberg's Influence
Zuckerberg wasn't always so publicly political, but now that he is, it appears he has no intention of turning back. This begs the question — how much influence can Zuckerberg have on policy?
To be blunt, he doesn't have the gravitas of, say, the CEO of Bank of America or Exxon Mobile; at the same time, he is immediately identifiable as the Facebook CEO to tens of millions. Neither of the aforementioned executives can say the same about their respective titles.
For that reason, Zuckerberg's comments about the NSA could actually make a difference, Rich Hanley, associate professor and director of the graduate journalism program at Quinnipiac University, told the E-Commerce Times.
"Whether Mark Zuckerberg has the same influence as the chair of Exxon Mobil remains to be seen, but he understands that his business is threatened by government surveillance," Hanley said. "He needs to aggressively show Congress that the NSA's activities hold unintended consequences for Internet businesses now and moving forward."
We'll probably be hearing more from — or at least about — Zuckerberg and his policy views in the coming weeks. He is reportedly scheduled to meet soon with Speaker of the House John Boehner, House Majority Leader Eric Cantor, Whip Kevin McCarthy and Conference Chair Cathy McMorris Rodgers — the top leadership in the House, in other words — about privacy and Internet safety, according to Politico.
Zuckerberg has also used the time-honored option available to high-powered executives and individuals of donating money to the candidates and parties that represent their interests. In fact, Zuckerberg has contributed US$15,000 to Facebook's political action committee as well as to Newark Mayor Cory Booker's campaign for the New Jersey state Senate seat, Politico reports.
It will be interesting to watch what he does during the next election cycle.
'Outspoken on Policy Issues'
So far, Zuckerberg's political activities and comments have been completely above reproach, said John Carey, professor of communication and media management at Fordham Business School.
"There is nothing wrong with CEOs of major tech firms speaking out on policy issues that they believe affect their companies," Carey told the E-Commerce Times. "Bill Gates, Steve Jobs and Jack Welch, among many others, have been outspoken on policy issues affecting their respective companies."
The danger is when a CEO publicly speaks out on policy issues unrelated to their company, he continued — such as a tech CEO announcing a position on Syria.
"Zuckerberg hasn't crossed the line," Carey said — "yet."