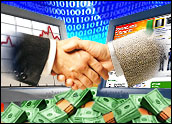 Though the ink has hardly dried on the ad partnership deal between Google and Yahoo, Congress is already setting its investigative machinery in motion to determine whether the tie-up might violate antitrust or privacy laws.
The U.S. House Subcommittee on Commerce, Trade and Consumer Protection had already scheduled hearings this summer to examine online advertising issues. Now, the subcommittee has indicated that the pending Google-Yahoo alliance will be part of the conversation.
The partnership "further highlights the need to examine what risks agreements such as these pose to consumer privacy," said Rep. Ed Whitfield, R-Ky., ranking member of the subcommittee. "There remain a number of questions surrounding what personal information these types of companies collect from consumers' use of the Internet and how those data sets may be combined for future use."
Google and Yahoo have begun lobbying in defense of the deal. Yahoo CEO Jerry Yang was in Washington last week to speak informally with legislators about it, according to accounts.
Getting Ready for Inspection
To be sure, Google and Yahoo were expecting some kind of regulatory scrutiny. In announcing the deal, they said they would delay moving forward with the partnership for up to three and a half months to give the U.S. Department of Justice time to review it — even though, as they pointed out, they were not required to do so.
The terms of the proposed deal seem open enough, leaving aside the two companies' dominance of the market. The 10-year deal allows Yahoo to select and control which search terms Google uses in its search advertising placement. It will continue to leverage its own platform, the Panama system, for premium content. Also, the deal is nonexclusive and comes with an out for Yahoo: after the four-year initial term is over, there are two three-year renewals at Yahoo's option.
It seemed inevitable that the industry and government would have concerns about the tie-up, and Google's Omid Kordestani, senior vice president of global sales and business development, took pains to address them in a blog post. It is not a merger, he emphasized, and the deal does not increase Google's share of traffic.
Perhaps most important: "This does not let Google raise prices for advertisers," he said. "We have found over years of research that an auction is by far the most efficient way to price search advertising and have no intention of changing that."
Ultimately, it is unlikely that Congress will do anything to derail the transaction, said Sterling Market Intelligence Founding Principal Greg Sterling.
"I understand their concern — that is a lot of market power vested in Google and Yahoo," he told the E-Commerce Times. "So there is a growing desire to preserve competition in the search space — which is why these hearings are being held."
Nonetheless, "hearings are not the vehicle to take that sort of action," he concluded.
Different Scenarios
Congress doesn't necessarily have to take specific action to kill the deal, observed N. Venkat Venkatraman, chairman of the information systems department at Boston University's School of Management. All it has to do is ask the right questions.
If the hearing focuses on privacy, "Google may not want to reveal the inner workings of their database structure and how they mine the data," he told the E-Commerce Times. "Revealing the inner database structure for the sake of working with Yahoo would be too high a price. I am sure they will simply walk away."
Worse, he continued, if the subcommittee signals or hints that it will have another hearing in the fall, some stockholders may use that as a reason to get Microsoft back in for discussions.
Yahoo's value is down to US$30 billion now, he pointed out — about $15 billion in lost value from shareholders' point of view. "The only strategic direction that Yahoo has offered so far is the deal with Google, and if that is under scrutiny, it delays the deal. In this business, any such delay means less cash flow for Yahoo — and less cash flow means further drop in market value. The downward spiral continues."
On the other hand, "If [the subcommittee] merely asks for clarifications and does nothing more before August 1st, Yang and company may be able to dodge the bullet in the short-term, in terms of not further angering the stockholders," Venkatraman said.
Yahoo should also be fine if the hearing just focuses on anticompetitive issues.
"Google and Yahoo may answer that this brings Google's search-based advertising and Yahoo's display-based advertising together to provide best value for advertisers and consumers," Venkatraman noted. "And if there are sufficient advertisers that agree to that position, they may be able to get away with it for now, since there is no merger involved."